Eric Cantona: Man Utd can win 2016 Premier League title
Last updated on .From the section Football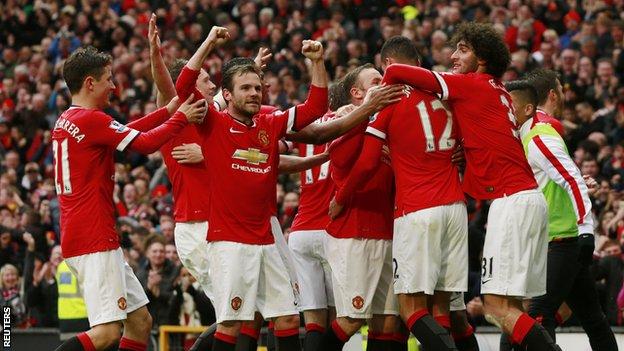 Eric Cantona says Manchester United's derby win over Manchester City proves they are capable of winning the Premier League title next season.
United beat City 4-2 at Old Trafford on Sunday to consolidate third place in the Premier League table.
"Now they are the kings of the city," said Cantona, who won four titles for United between 1992 and 1997.
"Sometimes you have a season when you lose games and you finish fourth or fifth. Next year they can win."
Despite going behind to an early Sergio Aguero goal, United came back strongly with goals from Ashley Young, Marouane Fellaini, Juan Mata and Chris Smalling before Aguero added a late consolation.
The first home derby victory since 2011 put them four points ahead of league champions City and firmly on course for a return to the Champions League next season.
Speaking at the Laureus World Sports Awards in Shanghai, China, Cantona addressed a wide-range of topics.
The Frenchman gave his verdict on current United manager Louis van Gaal, describing the Dutchman as "the right one" and "a good one" when asked if he would consider managing the club himself.
He also revisited the kung-fu kick he launched at Crystal Palace fan Matthew Simmons in 1995 and the importance developing young footballers has in winning titles.
The 48-year-old went on to deny his latest film You and the Night should be considered 'soft porn', describing it instead as "a piece of art".
'Nobody will teach me how to behave'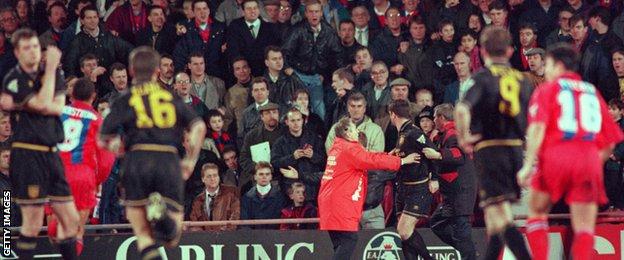 In 1995, Cantona attacked a Crystal Palace fan, responding to the jeers of the crowd with a kung-fu kick in a moment that still resonates as one of the most extraordinary in sport.
He was initially sentenced to two weeks in prison for the offence but instead served 120 hours of community service after an appeal, and was also banned for nine months by the Football Association.
"Through me everyone can realise you do good things and bad things," Cantona said.
"I've done things I am proud about and I have done some bad things that I do not regret because it's just my life. If you are happy then good, and if you are not, I don't care. Nobody will teach me how to behave."
On why City have not won back-to-back titles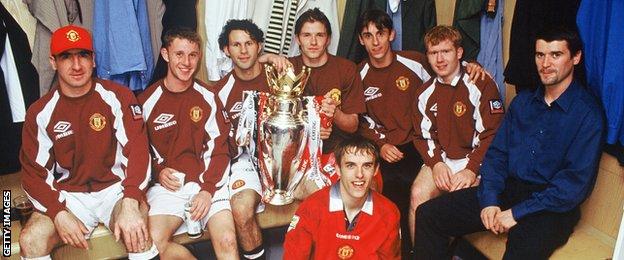 Cantona was asked why Manchester City seem unable to claim back-to-back titles and replicate the kind of dominance United enjoyed under Sir Alex Ferguson, who guided the club to 38 trophies in 26 years.
"City cannot win the league every year," he said. "There are so many clubs that can win the league, that's why English football is so exciting. There are clubs who buy the best players, there are clubs who work on young players, and there are clubs who do both.
"I prefer this kind of club, like United, who, while rich enough to buy the best players, also work on young players. The academy at the club is very important, they have worked on that for many years.
"You can buy the best players but when you have a great academy, a great generation, nobody can beat it because they have played together since they were 14 years old - Barcelona also understood that.
"Maybe City are trying to build something, maybe Chelsea are working on that also, but it takes time, and we will see. You can build a team with a lot of money and the year after you win the league, but with young players you need 10 years."
'Pastore the best in the world'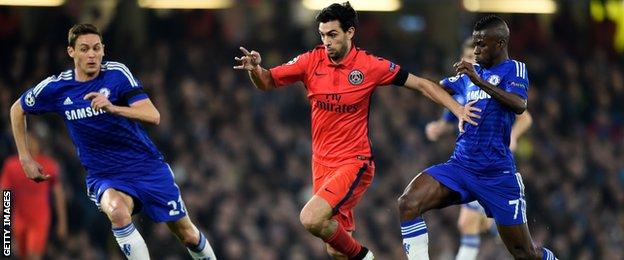 Cantona said he believes Paris St-Germain's attacking midfielder Javier Pastore is the best player in the world.
The 25-year-old Argentine left Italian club Palermo for PSG in a deal worth £37m in 2011, and has since made 174 appearances for the French champions, scoring 32 times and providing 34 assists.
"Pastore can do things that the other ones don't know," Cantona said.
"I watched two games just to see him playing, giving passes. He has got something special - he does things that surprise you every time. Not only in scoring goals, spectacular goals, but everything.
"He's the most creative player in the world today. It's why I think he's the best player in the world, because I love this kind of player."
'Love is sex as well you know'
After retiring from football in 1997, Cantona embarked on a career in acting and played a minor role alongside Cate Blanchett in the 1998 film Elizabeth.
In 2009 he starred in Looking for Eric, director Ken Loach's meditation on the power of Cantona as a cult figure.
In his latest work Cantona plays a character called The Stud but denied the film should be considered pornographic despite its comedic plot being centred on an orgy.
"You can see it like this, but it's beautiful," he said. "It's not porno, it's a piece of art.
"Love is sex also, you know. This kind of story, when you choose to do it, you have to know the director well. If it's a real artist, somebody special, you can be confident enough, but it can become very dangerous."