Mansfield boss Adam Murray admits to pre-match nerves
Last updated on .From the section Football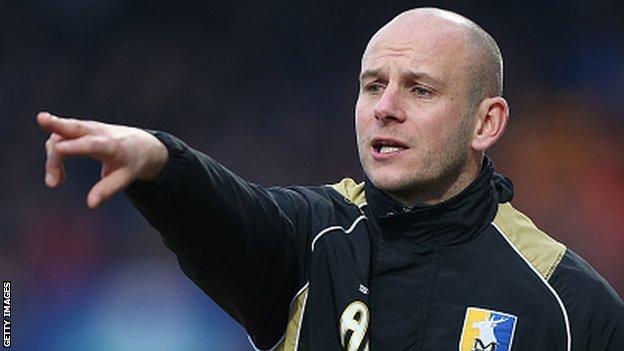 Mansfield Town manager Adam Murray admitted he had to battle a bout of nerves before their crunch League Two match against Tranmere Rovers.
A 1-0 win left the Stags needing only two more points to guarantee safety.
"I felt sick and anxious, there was a little bit of worry and a little excitement," said 33-year-old Murray.
"It was the first game as a manager where something's really been riding on it and I haven't been able to go out there and carry the baton myself."
Reggie Lambe's winner took Mansfield eight points and three places clear of the relegation zone with three games to go and sent Tranmere to the bottom of the table.
"I was sitting with my wife a couple of days ago and I said 'I wish I didn't care so much'. I don't want to let the club down," added Murray, who became player-boss in December following Paul Cox's departure.
"I have spoken to some managers over the last four months and they are in it for a job, but this isn't just a job.
"For me it's everything and that's the pressure I put on myself, so when you do get wins like this it is magnified by a million per cent."
Lambe scored his fifth of the season just before the break, but had to sweat on the result for a few moments after he was sent off in stoppage time following a skirmish involving players from both teams.
"Waiting for the final whistle in the dressing room and knowing we were under the cosh was very nerve-wracking for me, but the boys got through," he said.
"I was looking down the tunnel, but someone was there telling me to get back inside.
"Once I heard the final whistle I was ecstatic and relieved that the red card didn't cost the team."