Irish Cup: Row erupts over final venue and ticket arrangements
Last updated on .From the section Football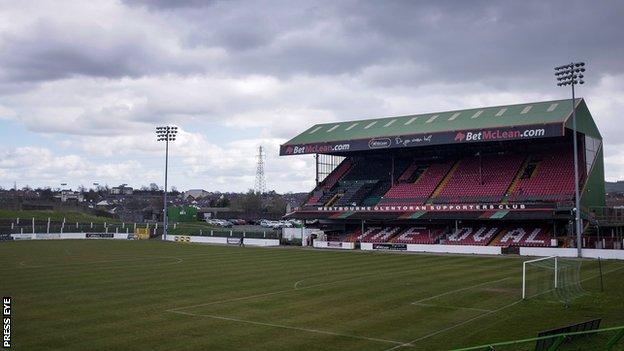 Thousands of supporters are set to miss out on this year's Irish Cup final as criticism mounts over the venue and ticketing arrangements for the decider.
Portadown and Glentoran fans were angered by having to purchase tickets through Ticketmaster, and having to pay a booking fee.
The final was then moved from Windsor Park to the Oval because of cracks in the structure of the West Stand.
Around 4,000 fewer tickets will be available as a result of the switch.
Both clubs are expected to receive 3,000 tickets, but finals have attracted attendances in the region of 10,000 in recent years.
Glentoran manager Eddie Patterson echoed the thoughts of many supporters at the weekend when he said that the final should have been played at the Kingspan Stadium, home of Ulster Rugby, which could seat 9,000 fans.
The East Belfast club reiterated these sentiments in a statement released earlier this week.
"We regret that this option was not seriously considered by the IFA and have therefore made the Oval available as the only other feasible option in Northern Ireland, albeit at an unacceptably low capacity," read the statement.
"However with the current 'safe' capacity at the Oval, this will have a significant detrimental financial impact on both clubs and we will seek to have this matter addressed."
The Glens have announced that shareholders, season ticket holders, Vice Presidents and Life Members only can buy tickets at this stage, before the rest of the tickets go on general sale next Monday.
Meanwhile, the chairman of Cookstown Glentoran Supporters' Club, Michael Wilson has called on supporters of both clubs to boycott the decider if the Irish Football Association fail to come up with acceptable answers regarding the new venue and ticketing arrangements.
"The cup final has become a shambles. I feel both clubs should speak with one voice on this," Wilson told the Belfast Telegraph.