Kidderminster Harriers: Boardroom alliance to pay this season's bills
Last updated on .From the section Football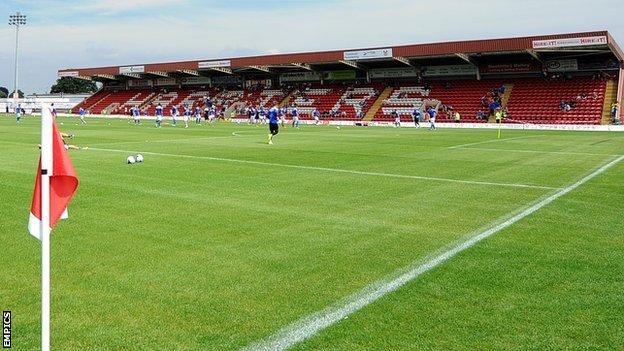 Kidderminster Harriers have allied with the club's Independent Supporters Trust (KHIST) to ensure that they can pay their bills for the rest of the season.
The Conference side have issued a joint statement revealing that the club's directors, two of whom are KHIST members, and major shareholders have agreed to underwrite the budget.
The club have struggled to met their wage bill at times this season.
And they have been forced to sell players to raise money and cut costs.
But, following new chairman Rod Brown's appointment on Monday, Harriers are now financially secure in the short term.
The four-man Aggborough board
Harriers now have a four-man board made up of new chairman Rod Brown, as well as three fellow directors, Wayne Allen, a former director of Cheltenham Town, and two Kidderminster Harriers Independent Supporters Trust fan representatives, Geoff Coles and David Williams.
"The board of directors met with the major shareholders ahead of their board meeting," said the club statement. "We are pleased to announce that all parties concerned have agreed to meet the club's financial obligations until the end of the season.
"This positive action will enable the board of directors to focus on all the revenue for next season to support the future financial sustainability of Kidderminster Harriers. This action also allows, with immediate effect, all income generated to fully support the 2015-16 playing budget."
Harriers have slipped to 16th in the Conference table, having won just once in 13 games since manager Gary Whild was forced to prune the playing staff budget.
Whild, appointed 13 months ago following the sackings of Steve Burr and Andy Thorn in the space of two months, has told BBC Hereford & Worcester that he has considered quitting as manager.
But the club are hoping that their restructuring in the boardroom - previous chairman Ken Rae and fellow directors Gino Ruffinato and John Davies stood down last week - will help turn the club round.
BBC's Trevor Owens on the Harriers
"This news will bring peace of mind to the Harriers players and staff, while club officials will also now be able to focus on generating revenue for next season. The club says this announcement means that all revenue from now on will go towards supporting next season's playing budget. This, in itself, will be welcomed by manager Gary Whild who is facing stringent cuts. Harriers say the main aim is to support their future financial sustainability."
Trevor Owens (sports editor, BBC Hereford & Worcester)