Chelsea suffer most abuse from social media trolls
Last updated on .From the section Football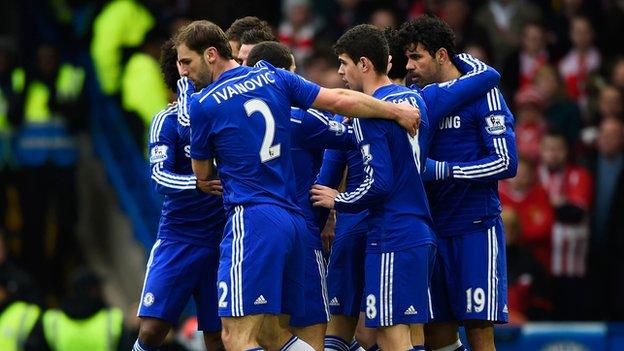 Premier League clubs and players have received more than 130,000 abusive posts on social media this season, according to a study by anti-discrimination group Kick It Out.
The research found Chelsea were the most targeted club, while Liverpool striker Mario Balotelli suffered more abuse than any other player.
Kick It Out now wants to form an expert group to tackle internet trolls.
"The level of abuse is truly staggering," director Roisin Wood said.
"We must do all we can as a collective to protect those who are on the receiving end of discriminatory abuse."
The group says it is exploring forming a group made up of representatives from football, social media platforms and police to address the level of football-related racist, sexist and homophobic abuse.
How bad is it?
According to Kick It Out's study, there have been an estimated 134,400 discriminatory posts this season related to the Premier League alone.
That equates to:
16,800 discriminatory posts a month

551 of them per day

1 abusive mention every 2.6 minutes
What do the abusers target?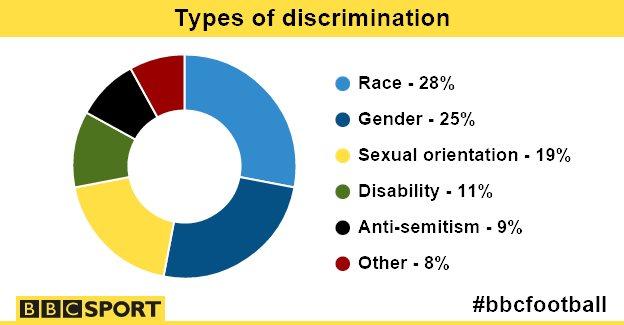 Who does the most abusing?
78% of abuse comes from men, with 22% from women.
Which clubs are abused the most?
More than 95,000 discriminatory posts were directed towards Premier League teams.
And while Chelsea have received more abuse than any other top-flight club - the league leaders were the subject of 20,000 discriminatory posts between August 2014 and March 2015 - Liverpool were not far behind, with 19,000 abusive messages directed towards them.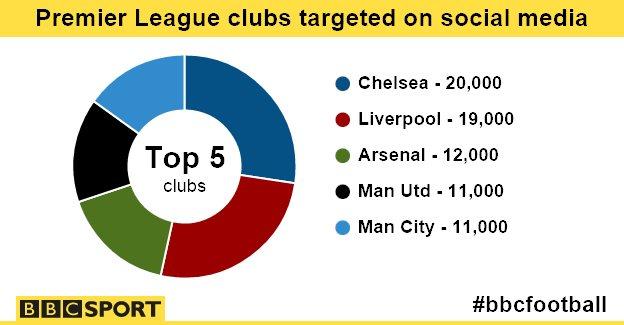 And players?
About 39,000 discriminatory posts were directed towards Premier League players between August 2014 and March 2015.
Liverpool striker Mario Balotelli was targeted the most.
| | | |
| --- | --- | --- |
| Player | Number of discriminatory posts | Highest proportion of abuse by type |
| Mario Balotelli | 8,000+ | 52% (racist) |
| Danny Welbeck | 1,700 | 50% (racist) |
| Daniel Sturridge | 1,600 | 60% (sexual orientation) |
Where did most abuse appear?
Social media activity on Twitter accounted for 88% of the 134,400 discriminatory posts.
It was followed by:
Facebook (8%)

Forums (3%)

Blogs (1%)
The report does not include mentions on private profiles, which are gated and could not be monitored.
Which games attracted the most abuse?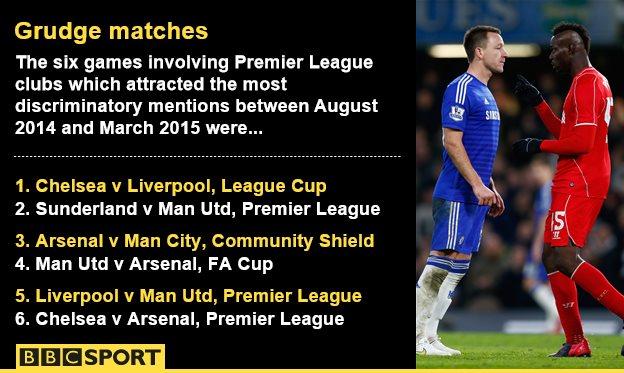 How were the figures collated?
The research was conducted by social media management agency Tempero and Brandwatch, a social intelligence and analytics company.
It focused on discriminatory messages directed at Premier League clubs and players between August 2014 and March 2015.
So what now?
Kick It Out is exploring the possibility of setting up an expert group to tackle the issue of football-related hate crime across social media and plans to meet with those working in football, the police, internet safety bodies and various social media platforms.
Wood said: "So far this season, we have received 140 complaints relating to football-based hate crime on social media, yet we can see from these findings that over 134,000 discriminatory posts have occurred just in relation to the Premier League. It is a huge volume to be looking at addressing, but we must confront the problem head on."
What safety measures are already in place?
Twitter has an abusive behaviour policy, while Facebook has a community standards page outlining its policies to help keep users safe. There have also been prosecutions as a result of abuse targeted at sports people on social media.
A 21-year-old student was jailed for 56 days after admitting tweeting racially offensive comments about Fabrice Muamba after the former footballer suffered a cardiac arrest in 2012 while playing for Bolton.
Will this research change anything?
BBC sports editor Dan Roan says: "These worrying findings underline the growing problem in sport - but especially in football - of discriminatory abuse by trolls via the internet. Campaigners will now hope it leads to renewed efforts to tackle it.
"Kick It Out has grown frustrated by what it sees as a lack of co-ordination between the police and social media platforms over malicious posts and wants the clubs to do more.
"Twitter says it is being proactive, but the anonymity afforded to online users can make it difficult to track down offenders. Social media enables fans get closer than ever to players, but it also helps a minority to abuse and insult. Stamping that out will be extremely difficult, but this could be an important stage in that effort."