All five final SPFL Championship fixtures to kick-off at same time
Last updated on .From the section Football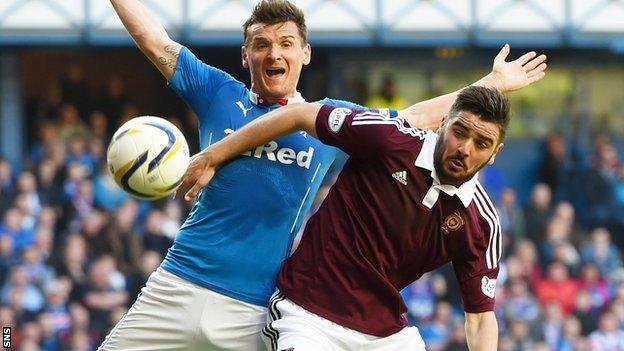 The final round of Scottish Championship fixtures will now all kick-off simultaneously at 12:15 BST on Saturday 2 May.
Hearts v Rangers had initially been moved to Sunday 3 May by the Scottish Professional Football League.
But both Hibernian and Hearts believed this jeopardised "sporting integrity", as Rangers could know the result needed to get to secure a league placing.
Rangers' trip to Hearts will still receive live television coverage.
SFA chief executive Stewart Regan
"In a play-off situation, having games finishing at the same time would be the preferred solution."
A spokesperson for the SPFL said: "Following consultation between the SPFL, member clubs and broadcast partners regarding the final round of Championship fixtures over the weekend of 2 and 3 May 2015, Sky Sports has now suggested an alternative schedule for its televised Championship match that weekend.
"As a result, we are pleased to confirm all five Championship matches that weekend will now kick off simultaneously at 12.15pm on Saturday 2 May. The Hearts v Rangers match will be televised live on Sky Sports.
"The SPFL would like to thank Sky Sports for its flexibility and understanding and we're sure all football fans will look forward to an exciting climax to the Championship season."
SPFL chief executive Neil Doncaster had said on Thursday morning that it was an obvious decision for Hearts v Rangers to be on Sunday 3 May for broadcast coverage, and that Hibernian could request to move their tie with Falkirk to the same day.
However, Sky Sports' suggestion to screen Hearts v Rangers on Saturday instead means simultaneous kick-offs across the round of fixtures are maintained.