Irish FA told damaged Windsor Park stand should be demolished
Last updated on .From the section Football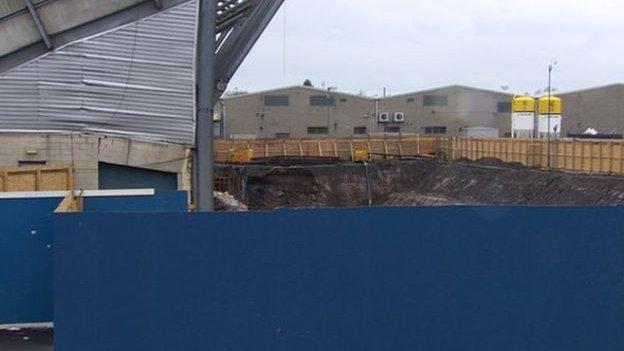 The Irish Football Association has been advised to demolish the damaged West Stand at Windsor Park in a preliminary structural report now with the Northern Ireland football governing body.
Windsor Park has been closed since cracks were discovered in the stand following last month's Euro 2016 qualifier against Finland.
The venue is scheduled to host the qualifier against Romania on 13 June.
The IFA told the BBC it is studying the findings of the preliminary report.
However, BBC Northern Ireland has learned that the preliminary report recommends the demolition of the West Stand.
On Wednesday, Irish FA chief executive Patrick Nelson said staging the 13 June international at Windsor Park remained its "only focus" and that an alternative venue for the Euro 2016 qualifier, such as the Kingspan Stadium, had not yet been considered.
"We're working very hard to make sure the game is played at Windsor," said the IFA chief.
"There's a lot of things that need to be done to make that happen but that's our primary focus and only focus.
"We haven't spoken to anyone yet [about an alternative stadium] but we want to keep the game in Northern Ireland.
"If we need to speak to anyone we will do so at an appropriate time."
The IFA held an emergency meeting on Tuesday night to update members on the latest situation regarding the stadium.
It is believed that at least two independent reports are being carried out on the damaged stand, with cracks first spotted on 31 March, two days after Northern Ireland's qualifier against Finland.
Linfield are unable to use their home venue and the Irish Cup final on 2 May, which was scheduled to be played at Windsor Park, has been switched to the Oval.
Nelson said: "It's structural engineering - you have to get it right, people have to stand over their views and it takes time.
"I can assure Northern Ireland fans that we are doing all we can to make the right decision."