Hearts are to make a formal complaint to SPFL over fixture row
Last updated on .From the section Football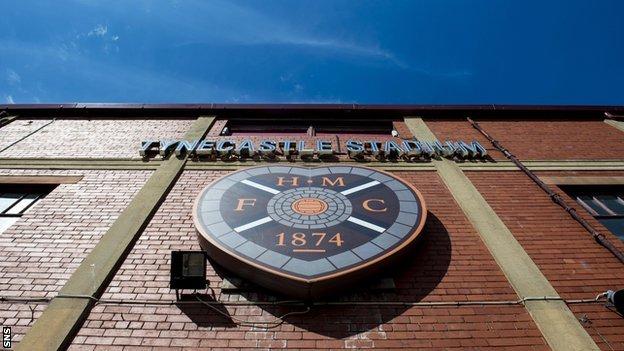 Hearts will make a formal complaint about Scottish Professional Football League chief Neil Doncaster's handling of the Championship fixture row.
Owner Ann Budge is to demand answers after the final fixture of the season against Rangers was moved to Sunday 3 May, before being reverted back to the original day of Saturday 2 May.
"The way in which Scottish football is being run really does need to be examined and explored," she said.
Hearts have already won the league.
Hibernian, who are battling Rangers for second place, and Hearts had accused the SPFL of compromising "sporting integrity" if Rangers were allowed to play their final fixture a day later than their play-off rivals.
However Doncaster said only one club had contacted them about moving their fixture.
Budge told BBC Scotland: "I'm not talking about personalities, I'm talking about the process. I have never run a business by committee. I find it very difficult that in certain situations you need 42 clubs to say yes before you can make any change.
"So the whole way in which Scottish football is run is something we do need to look at and keep challenging if things are wrong.
"The attitude of 'well that's the way it's done in football' needs to be challenged."
She revealed she had sent an email to all 42 clubs to tell them Hearts' position on the fixture change.
"I am puzzled [by Doncaster's comments] because there was quite a bit of email activity at least [from a number of clubs]," she said.
"I think Hearts, and Rangers, should have been advised of what was going on other than just being one of 42 clubs to receive an email. Just engaging with the clubs a bit more would help. We won't always get what we want but at least talk to us."
Hibernian chief executive Leeann Dempster also hit out at the SPFL and accused them of "passing the buck", while Kilmarnock have also written to Doncaster over separate issues related to their post-split Premiership fixtures.
Dempster said in a statement: "This was a ludicrous situation entirely of the SPFL's making. For example, in our view if we had requested a switch to coincide with the Hearts v Rangers clash it could have seen Queen of the South disadvantaged.
"Sporting integrity is sporting integrity and must be applied equally to all clubs - and that is surely the job of the SPFL."