Greg Dyke: Rooney rule version needed in English game

By Richard Conway
BBC Radio 5 live sports news correspondent
Last updated on .From the section Football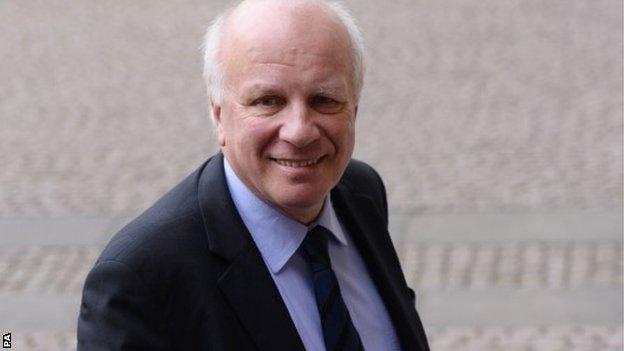 Football Association chairman Greg Dyke has reiterated his call for a version of the 'Rooney rule' to boost diversity among coaches and managers in England.
Under the rule, clubs must interview a black or ethnic minority (BAME) candidate for each head coach or manager role.
Dyke also says BAME players must get more boardroom opportunities.
"Clubs will recognise that they can't carry on in the way they've always done and they've got to change," he said.
"I'm not sure you need the Rooney rule, but you need a version of it."
His comments come after research last year showed just 19 of 552 leading positions within English football were held by BME coaches.
What is the Rooney Rule?
Introduced into American football in 2003, the Rooney Rule mandates that teams interview at least one BME candidate when a head coach or general manager position becomes available.
You can download a podcast of Richard Conway's look at the history and impact of the Rooney Rule, and whether it could work in UK football,
here.
Dyke was speaking at an event to celebrate 20 new graduates from the 'On The Board' scheme, which the FA runs in partnership with the Professional Footballers' Association and the Governance Forum.
With fewer than 1% of senior administrator positions within English football occupied by BME executives, the course is designed to instruct under-represented groups with the skills to be effective in boardrooms.
Brighton manager Chris Hughton was among those to graduate from the course this year and believes such schemes are vital to correct historic underrepresentation levels.
"Football has a responsibility," he said. "If you look at the workplace, most companies are diverse these days. We certainly see that in football.
"I think most people would agree that it's the right thing to have more diversity at board level."
Les Ferdinand, who completed the course last year, is now director of football at QPR and credits his training with helping him land the role.
Former Reading, Blackburn and West Brom striker Jason Roberts believes that the pace of change is still too slow.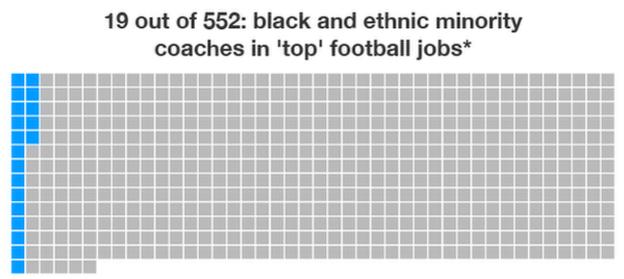 "With 30% of BME players on the pitch, this situation is disgraceful," he said. "The current status quo cannot continue."
The Football League is currently conducting a review, led by its chairman Greg Clarke, into diversity levels within its three divisions and will issue recommendations later this year.
The introduction of the Rooney rule, possibly on a trial basis in League Two, could form part of that process.
But Roberts believes the introduction of 'positive action', as opposed to 'positive discrimination', to boost BME numbers in key positions off the pitch is now urgently needed across English football.
"We've let down three generations of black players," said the 37-year-old. "I don't want to let down the next."