Demi Stokes: No reason for Britons to go abroad says Man City player
Last updated on .From the section Women's Football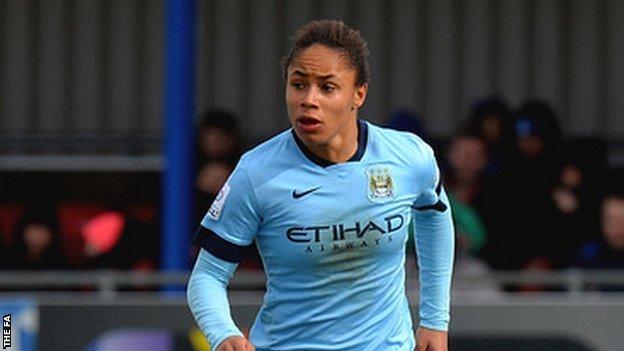 British players no longer need to play football abroad, but can have successful careers in the Women's Super League, says Manchester City and England defender Demi Stokes.
Stokes, who signed for City this season having spent four years playing in the United States, says players should "stay and will be better for it".
"Players don't need to leave England any more. A few years ago I did think that was the case," she said.
She left Sunderland for the US in 2011.
"I just thought there wasn't a lot going on," said Stokes, who departed Sunderland after they missed out on the inaugural Women's Super League.
"The league wasn't professional at that time. I thought 'It's probably time to try something different'."
She accepted a scholarship to the University of South Florida and went on to play for Canada's Vancouver Whitecaps.
"I loved it. I studied out there as well but all round it was really enjoyable and a great experience. I think I've become a better person and player for it," she said.
Stokes said that speaking to her England team-mates made her decision to return easier.
"I would hear the girls talk about how competitive, how good the league was," she said.
"I couldn't get over how big the game has changed in terms of how much support it's got."
The WSL is in its fifth season and has expanded to 18 teams, playing across two divisions and several sides train full-time.
"It's a very competitive league, I'm excited", added Stokes.