Raheem Sterling will wonder what he was doing - Brendan Rodgers
Last updated on .From the section Football
Liverpool forward Raheem Sterling will "look back in 20 years and wonder what he was doing" after recent off-field incidents, says boss Brendan Rodgers.
Rodgers has spoken to both players to remind them of their responsibilities.
"They will make mistakes, whether it is those two or other young players," said the Liverpool manager.
"In the main, young footballers are good people, they do a lot of things which go unnoticed. Sometimes they get caught out but that is just youth and learning."
Sterling met with Rodgers on Thursday, and the club say the matter is now closed.
"He is living his life in the spotlight and he understands that," Rodgers told Football Focus, adding "deep down" Sterling is a "really good kid".
"He is fully aware of the impact of what he did, and I spoke to Jordon Ibe as well."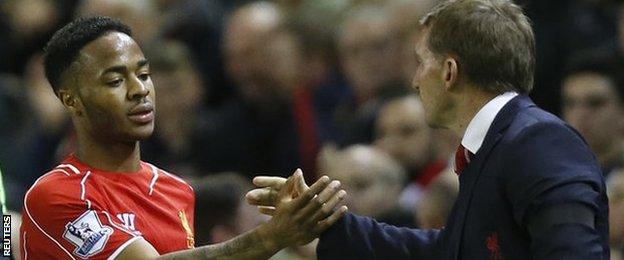 Winger Ibe has made eight appearances for Liverpool this season since returning from a loan spell at Derby.
"They are young players but there is a sense of perspective as well - because they haven't done anything illegal," said Rodgers.
"It certainly doesn't help them in their careers, but it is really about looking after their well-being and helping them understand about health issues that surround what they have been doing, and also professionalism."
Nitrous oxide, commonly known as laughing gas, is often used in surgery and dentistry for its anaesthetic effects but it is also a popular legal high as it can make people feel relaxed, euphoric and giggly.
A Home Office campaign last year on the risks of legal highs showed it was the second most popular drug among young adults after cannabis.
Earlier this month, Sterling told the BBC he had rejected a new £100,000-a-week contract at Anfield.
He scored in the Premier League win over Newcastle on Monday and is expected to play for the Reds in their FA Cup semi-final against Aston Villa on Sunday (15:00 BST kick-off).
Rodgers' Gerrard dilemma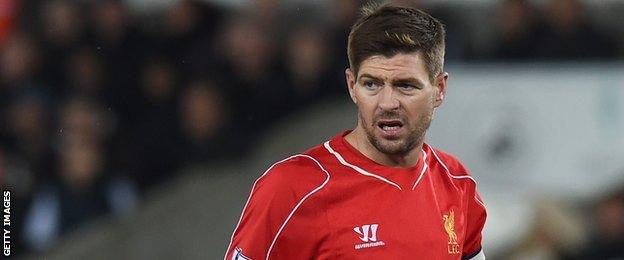 Reds captain Steven Gerrard is available to Rodgers after completing a three-match ban for his red card in the defeat by Manchester United on 22 March.
The 34-year-old midfielder was sidelined with a hamstring injury for five weeks before coming on as a substitute at Swansea on 16 March.
"He is definitely ready," said Rodgers. "We played a behind-closed-doors game on Monday in which he and a few other players who have been out played. He is fine.
"The most important thing is his availability. He is a special footballer and Wembley is somewhere he knows very well. Whether he plays or not, he will be a very important player for us on the day.
"He has been an incredible player who, in the main, has produced big goals and big moments in the big games."
Champions League spot or FA Cup win?
Liverpool are four points adrift of the top four in the Premier League with six games remaining.
Asked if he would prefer to win the FA Cup or finish in the Champions League qualifying places, goalkeeper Simon Mignolet said: "The next game is the FA Cup semi-final so the focus is on that.
"But you don't really choose between your mum and dad so we still have two things to play for and we will try to do that from now until the end of the season.
"We want to do both - let's hope we can do both. We have the FA Cup and league still to play for and we want to do well in every single game."
Watch the full interview with Brendan Rodgers on Football Focus, on BBC One on Saturday from 12:10 BST (apart from in Scotland)