Jose Mourinho: Fans abuse Chelsea because we are boring
Last updated on .From the section Football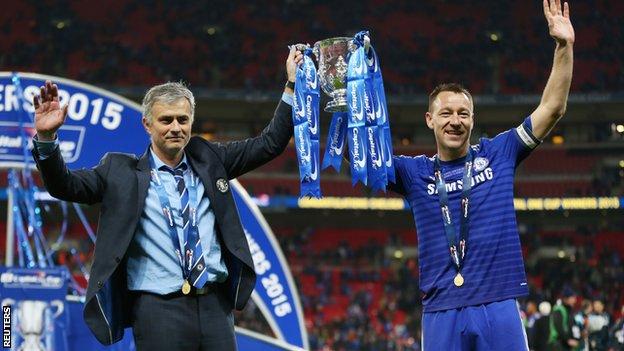 Chelsea boss Jose Mourinho has said his team receive the most social media abuse because they are "boring".
Mourinho, whose side have a seven-point lead, said: "It's because we are boring.
"We have been top of the league since day one. That is something people in this country don't like."
Chelsea have already captured the first main domestic trophy of the season, beating Tottenham 2-0 in last month's Capital One Cup final, Mourinho's first trophy at the Blues since returning for a second spell at Stamford Bridge on a four-year contract in June 2013.
However, a recent survey found that they fared worst in the Premier League in terms of respect towards referees, to which the 52-year-old Portuguese replied: "I prefer not to answer."
Mourinho on Manchester United
"Their squad is amazing. In numbers, in players, in experience, in solutions, their squad is amazing.
"Every week I have in my office not the team I am going to play against but their squad and all the options and this week I realised what they have is amazing - Mata, Di Maria, Januzaj, Rooney, Van Persie, Falcao, Herrera, Carrick, Blind, Fellaini.
"I went to QPR with Drogba and [we had] no strikers on the bench."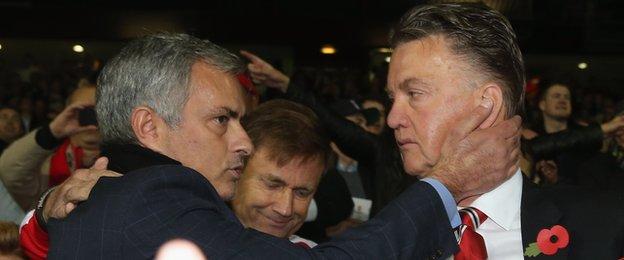 Relationship with United boss Van Gaal
"He is a big, big, big friend. This season working in the same country at clubs with the same objectives we are not speaking every week but the feeling, the deep feeling of a big friend, that doesn't change.
"They are fighting for the title. You read what their players feel and say and they are already fighting for the title."
On Jurgen Klopp leaving Borussia Dortmund in the summer
"He is a very good coach, but I have no idea if he will come to the Premier League. He is a good friend, I like him very much, but I don't want to go into that story [of] where he is going.
"He told me personally he is not coming to Chelsea so I am calm!"
Linked with signing 19-year-old Brazilian midfielder Nathan
"I'm not worried with that. He is a player our structure follows and our structure thinks he is a player with potential for the future.
"If the deal is close I will try to help - as I try to help everyone - [him] to become a Chelsea player, but at this moment he is not a player from my squad, not a player I am waiting for, and I am focused just on my job and my team.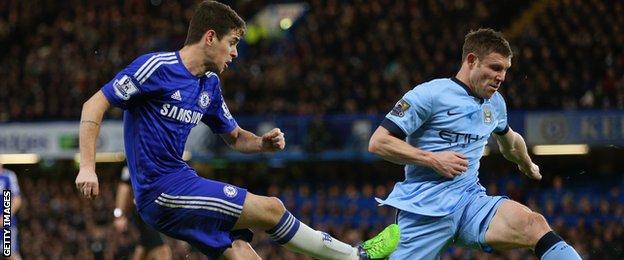 Will midfielder Oscar be staying?
"Of course. He just signed a contract a few months ago and is one of the players with long-term contracts.
"He is 23 years old, in the best period of his career - obviously we don't want to sell."
On Patrick Bamford, on loan at Middlesbrough
"He has a chance to be promoted with Middlesbrough - that is the reason he is there, to develop and help Middlesbrough.
"At this moment I don't have to speak about him, he is there for the rest of the season. We think these last few matches and the possibility of more in the play-offs are very important for his development."
Will Mourinho himself be Manager of the Season?
"I am the last one. I never got a Manager of the Month so how can I think about Manager of the Season?
"But I am here not to win the Manager of the Season, I am here to win the Premier League."