Robbie Neilson: Hearts must expect to win every time
Last updated on .From the section Football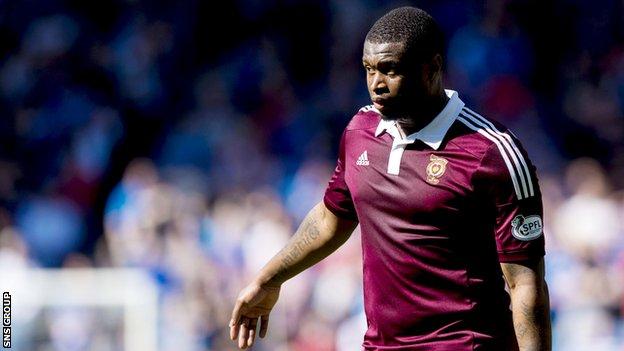 Head coach Robbie Neilson wants Hearts to make an immediate impact on their return to the Premiership next season.
"I think we should go to every venue in Scotland and try and win the game - and expect to win," he said.
"I'm not going to say we'll challenge for the league because Celtic have consistency - they've got that depth in their squad.
"But I have belief in the players and, if we recruit properly, we can go and try to beat teams like Celtic."
Neilson plans to bring new strikers to Tynecastle over the summer and thinks it may be hard to keep Genero Zeefuik on after a successful loan spell.
However, he revealed that James Keatings is happy to face new competition for places up front.
"James has still got a year left here and is still a big part of the club," explained Neilson.
"But I will be looking to bring strikers in and the strikers here know that, so it's up to them whether they want to stay and fight for a place or whether they want to go and play somewhere else.
"The conversation I've had with James is that he wants to stay and fight for his place."
Keatings, 23, has scored 11 goals in 30 appearances this term, while Zeefuik, 25, has knocked in an impressive 10 goals in 13 games since moving to Edinburgh in January from the Netherlands.
"Yes it's something we would like to do but realistically I don't think we will," said Neilson when asked if there was a possibility of signing the burly Dutchman.
"I think Groningen want to take him back - they paid 500 euro for him two years ago so I can't see them letting him go on a free. He came in January and did a fantastic job for us.
"We're in the process of speaking to agents and players but there's nothing concrete at the moment."