Wrexham players face big week, says coach Michael Oakes
Last updated on .From the section Football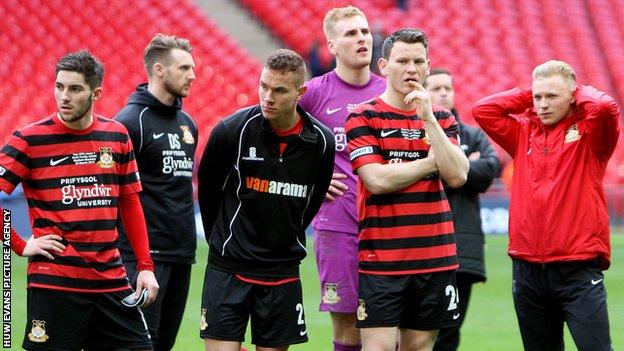 Coach Michael Oakes says players will be playing for their futures in Wrexham's final three games of the season.
The majority of Wrexham's squad are out of contract at the end of the season, which ends at Telford on 25 April.
"It's a big week for the players and important that they perform," Oakes said.
"There could be a new manager in the stand watching and they're all playing for their future.
"It's an excellent opportunity for them to stand out and shine."
Mark Carrington, Louis Moult, Blaine Hudson, Steve Tomassen, Robbie Evans, Ross White, Wes York and Luke Waterfall are the players under contract for next season.
The club is holding talks with out of contract players even though they are yet to appoint Wilkin's successor.
Carl Darlington has been in caretaker charge since Wilkin left but he will miss Wrexham's games at home to Braintree on Saturday and away to Aldershot on Tuesday.
Darlington is away with Wales' Under-16 side and former Aston Villa and Cardiff City goalkeeper Oakes, along with ex-Wales striker Lee Jones, will be in charge in his absence.
Wrexham will be looking to bounce back after their four match unbeaten run came to an end against Welling United on Tuesday.
Braintree, their opponents on Saturday, have parted company with manager Alan Devonshire and Oakes is wary of a backlash from the visitors.
"That will make the job no easier for us," Oakes added.
"We've managed to do well in the couple of weeks after the change here and that often happens when managers leave and caretakers take over.
"They will come here I think looking to give us a good test and it's all down to us and how we perform.
"If we perform how we can do then we give ourselves an excellent chance of winning the game."