Manuel Pellegrini: Man City boss says sacking never a good option
Last updated on .From the section Football
Manchester City boss Manuel Pellegrini claims clubs should not see sacking the manager as a cure for their problems.
Pellegrini's position has come under scrutiny with Premier League champions City 12 points behind leaders Chelsea.
Pellegrini said: "Every time you manage an important club, not just Manchester City, if you don't have the results the club deserves, everyone talks about changing the manager.
"It's very easy to sack the manager, but that's not the correct diagnostic."
Pellegrini's deal at City runs out in summer 2016 and, although he says no talks have taken place about extending his contract, he is keen to stay.
"I'm very happy at Manchester City - one of the biggest clubs in the world," said the 61-year-old.
"I'm happy with the fans, owners - disappointed with results but very happy here.
"I have one more year, I don't need [talks]. I had a contract for three years, I don't talk about extending. The first year was very good, second year not so good."
Pellegrini on Klopp speculation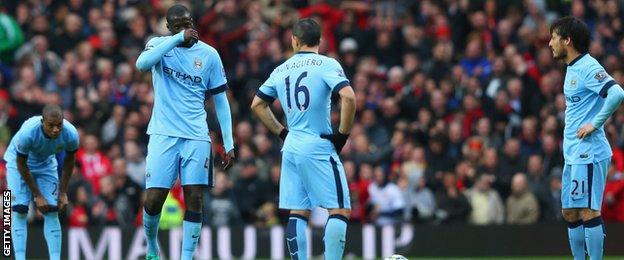 Jurgen Klopp has been linked with a possible move to Manchester City when he leaves Borussia Dortmund at the end of the season.
But City have played down such a move and Pellegrini said he does not require any assurance about his position from the club's owners.
He added: "You must manage with all kinds of rumour. I trust the work I do. You cannot win the title every year.
"I'm not thinking about next year. I keep working as I know I have the support of the owners and players - that's why I don't feel pressure. I think of the present, not the future. I don't need assurances."
Importance of Champions League spot
Manchester City are currently fourth in the Premier League in the top-flight's last qualifying position for next season's Champions League.
They have four points more than fifth-placed Liverpool going into the final six games of the season.
"It's very important for big teams to be in the Champions League," said Pellegrini.
"Manchester United weren't in it last year. Part of our project is to be in the Champions League and I'm sure we will win on Sunday against West Ham and be in the Champions League."
Pellegrini on plans for Toure
Midfielder Yaya Toure's future at City beyond the end of the season has also been called into doubt following some poor performances in recent weeks.
But Pellegrini said: "Yaya is a very important player for our team. Everyone is waiting to criticise him. He'll keep playing here.
"For a lot of reasons he's not the same Yaya as last season but he continues to be a very important player to the team.
"We need to support him to get back to his performance."
Fallout from the derby defeat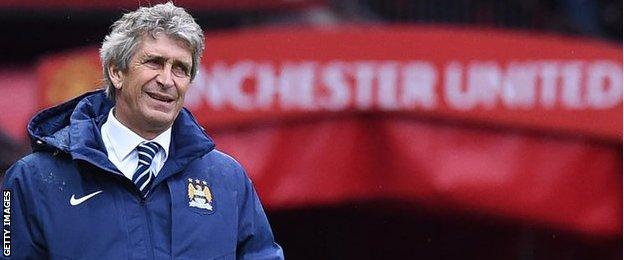 A number of City's players came in for criticism following last Sunday's 4-2 derby loss at Manchester United.
Pellegrini said: "When you lose a game the first day is always difficult. Especially when you lost the derby, it's more difficult. We are not having the results we deserve.
"We defended very badly last week. We are the team that always has most possession of the ball in every game. When you're not winning things are negative. Two or three balls change everything. 
"It's my responsibility for the whole squad, the whole performance. I trust in my players. Players have responsibility for what happened during the game, but I chose the players."
Vincent Kompany fitness worry
Captain Vincent Kompany will miss City's home Premier League game against West Ham on Sunday (kick-off 13.30 BST) after coming off at half-time at Old Trafford last weekend and may not play again this season.
Pellegrini confirmed: "Kompany is injured. It's a muscle injury, I don't know if he will be fit between now and the end of the season."
Pellegrini on relationship with City fans
"I never heard a problem with fans. I don't know what fans you're talking about. It's very important to be on the same link - owners, managers, fans.
"Last year we won the league. Every team has bad moments. We need to stick together."