Hibs left haunted as Falkirk seal unlikely Scottish Cup win

By Richard Wilson
BBC Scotland at Hampden
Last updated on .From the section Football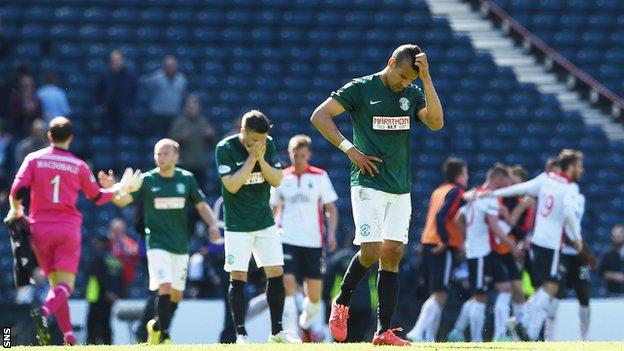 Elation swept the Falkirk players into embraces and celebrations in front of their own fans at Hampden after the Bairns beat Hibernian in their Scottish Cup semi-final.
There is always a contrast at the end of such occasions, but it was possible to see every expression of the regret that engulfed the Hibs squad as they trooped slowly from the field.
Easter Road boss Alan Stubbs waited on the touchline to acknowledge each of his players, and he spent a few moments talking words of encouragement to the disconsolate Scott Allan, who had been outstanding for periods of the second half.
As much as this outcome ought to be framed by the endeavour and toil of Falkirk and their sheer bloody mindedness, this felt unerringly like a moment of self-imposed calamity for Hibs.
There was much to admire in the way Falkirk constructed their breakthrough, and how apt that it involved their two most impressive outfield players in Blair Alston and scorer Craig Sibbald.
The latter, with his movement, passing and guile, is a talent of some promise, and he reacted decisively to the run and archly delivered cross of his midfield colleague Alston.
Falkirk manager Peter Houston had been urging Sibbald and Alston in recent weeks to make incursions into the penalty area, and that prompting brought its reward.
So, too, did the weeks of planning, since Falkirk had identified a weakness in the way Hibs deal with crosses. The video footage, the strategising and the running through of the tactics in training all proved worthwhile.
Even so, Falkirk were more reliant on the expertise of Jamie MacDonald than they were on the midfield promptings of Sibbald and Alston. The goalkeeper had to be at his sharpest and most athletic to hold Hibs at bay.
The outcome will haunt Hibs, and it will be familiarly stinging to their supporters. Victory would have carried the Leith team to their third final in four years, but it is long understood that this competition is unerringly able to expose the club to a terrible feeling of inadequacy.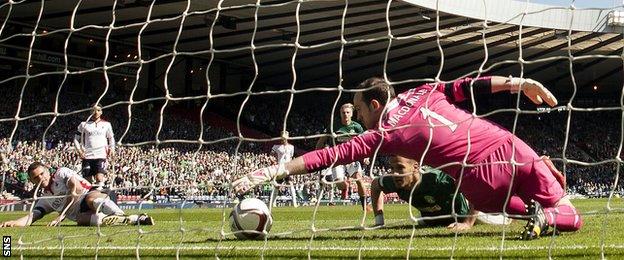 That was evident again at Hampden, where they twice hit the woodwork, dominated the second half and, when Allan was at his most beguiling, looked like a team that would inevitably score.
Misfortune abounded, such as the ball bouncing off Farid El Alagui only yards from goal and MacDonald still able to throw himself up to save it.
That was instinctive from the goalkeeper, but he brilliantly reached Fraser Fyvie's shot to tip it on to the post then gather the rebound.
Allan, in the way that he bursts past players with a sudden spurt of speed and evasion, and with the vision to squeeze and spray passes all over the pitch, performs with swagger. He was irrepressible for a spell, but still Hibs fell short.
How could that be? Forces combined, with El Alagui a frustrating figure in attack - never quite sharp or decisive enough to breach Falkirk's defiance - and strike partner Jason Cummings drifted into obscurity.
Falkirk also defended stoutly.
During one period of pressure in the second half, the powerful and commanding Peter Grant stretched his neck muscles to glance a header clear and ease the strain on his defensive colleagues.
David McCracken, his partner at centre-back, stood strong while the full-backs tucked in and made a broadly effective back-line.
It was telling, after all, that despite Hibs' midfield poise, there were few occasions when the Falkirk rearguard was breached by a through ball. There might have been early in the opening half, when Cummings was playing on the shoulders of the Falkirk defenders, looking to dart in behind, but they adjusted and coped.
Houston accepted afterwards that his side had been fortunate, but for all that Hibs had taken chargé of the game they still had to make that count. Their inability to do that was a flaw, and in four meetings this season they have lost three times to Falkirk and conceded a 3-1 lead at Easter Road to draw 3-3.
This was, then, hardly a shock.
Falkirk missed the presence and prowess of their top scorer, Rory Loy, since Taylor Morgan was an awkward, gangling replacement, albeit also a willing one. The Bairns had to defend their lines and hope that a moment might present itself - and when they created it, Sibbald was on hand to deliver the telling blow.
For all that Hibs could rue their missed chances and the fact that they dominated without winning, that was the cruel reality.
Sibbald and Alston, as well as the right-back Kieran Duffie, were all part of the side that led 3-0 at half-time against Hibs in the 2013 Scottish Cup semi-final only to lose the game 4-3 after extra-time. So perhaps it was fitting that they contributed to this victory, a cathartic and glorious moment for Falkirk.
Hibs played well, and Falkirk won the game. That, for all the detail, was the story of the day. The emotional joy in the faces of Falkirk's players and staff said enough about what it meant.