Neil Redfearn: Leeds United head coach's position is 'sad' - Morison
Last updated on .From the section Football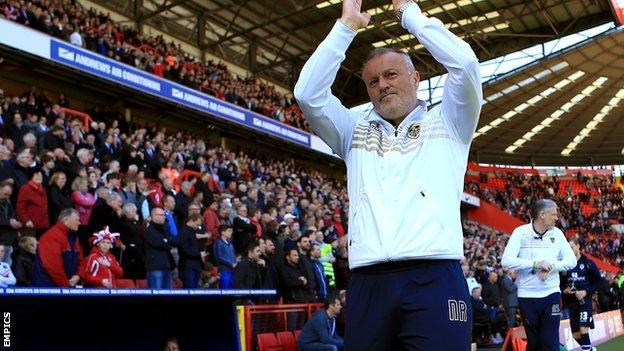 Leeds United striker Steve Morison says he is "saddened" by the position head coach Neil Redfearn has been put in.
Saturday's 2-1 defeat by Charlton was overshadowed by the late withdrawal of six players before the game.
"He's done a brilliant job and it's quite sad watching him out there every morning on his own," Morison said.
"He is out there putting out balls and cones, I've never known a manager to do that. He seems to be doing a hell of a lot.
"He hands out our (room) cards when we stay in hotels. He's going above and beyond."
Redfearn is the club's third head coach of the season, but his contract only runs to the end of the season.
His plans for Saturday's game were hit by Mirco Antenucci, Giuseppe Bellusci, Dario Del Fabro, Marco Silvestri, Souleymane Doukara and Edgar Cani all reporting injured the day before the match.
Former Leeds captain Trevor Cherry has called on the six players to be sacked.
Cherry, who played for Leeds from 1972 to 1982, told BBC Radio 5 live: "I would sack them and take the Professional Footballers' Association on.
"I don't think players can do that. It's scandalous and it's just another story for Leeds United that is disgraceful.
"I don't know exactly why the players (withdrew) and it might be one or two of them have got a good excuse, but it sounds too stupid to be true."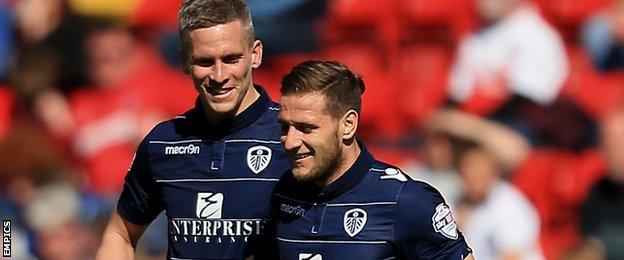 Wales international Morison, who scored his first goal for the club in more than two years in the defeat by the Addicks, admitted it was the latest in a long line of unusual events at the club.
"We're around it everyday. People will draw their own conclusions on what happened," he told BBC Radio Leeds.
"It's a tough situation because you have to take things on face value.
"It's been like this all season. It's been one of those seasons where every day something different happens. I have never known anything like it.
"The one thing I have always had is a team spirit. You can get away with being very average if you have that.
"I would class myself as an average footballer but if you have a team around you, it works."