Newcastle United fans 'boycott' match against Tottenham
Last updated on .From the section Newcastle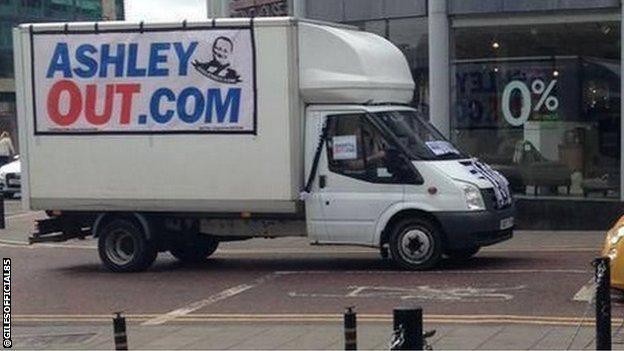 Thousands of Newcastle supporters appear to have boycotted their Premier League defeat by Tottenham in a protest against owner Mike Ashley.
The Magpies last month announced record annual profits of £18.7m, and many fans have criticised the ambition of Ashley.
The club had £34m in its bank account at the end of 2013-14, but spent nothing in January's transfer window.
The official attendance was announced as 47,427, while their average home attendance this season is 50,834.
Analysis from 5 live's chief football reporter Ian Dennis:
"It's difficult to gauge how successful the boycott was but I can't recall seeing so many empty seats at St James' Park for a Premier League match. We will never know how many season ticket holders did not attend but the crowd of 47,427 is the lowest of the season.
"To rub it in, some Sunderland fans organised a plane to fly over the ground with a banner that read "5 in a row Sunderland" in reference to their dominance in derbies. Newcastle United supporters may still have the last laugh but the current climate is far from jovial with their club in free fall. "
The official attendance includes season-ticket holders who may not have attended.
Protestors were hoping up to 16,000 fans would not attend Sunday's game and there were numerous empty seats at the 52,387-capacity stadium.
Fan-run website ashleyout.com said 20,000 leaflets explaining details of the protest were handed out in the hour before kick-off.
An ashleyout.com spokesperson said: "This is only the start of a long and sustained campaign to remove Mike Ashley."