Tim Sherwood: Aston Villa 'alive again' thanks to 'positive' boss

By Phil McNulty
Chief football writer
Last updated on .From the section Football504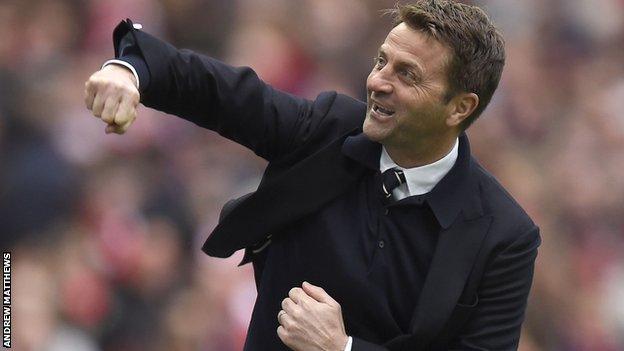 Aston Villa owner Randy Lerner took a gamble on Tim Sherwood based on a five-month managerial reign at Tottenham that ended with the sack - a gamble that has been rewarded with rich dividends.
The crucial victory at Spurs last week has pushed Villa closer to Premier League safety, the top priority when Sherwood was appointed to replace sacked Paul Lambert in February.
Now that achievement has been embroidered by Villa's first appearance in an FA Cup Final since the defeat by Chelsea in 2000 when they face Arsenal on 30 May.
Sherwood shows the sceptics
Sherwood's openly ambitious and outspoken approach, never afraid to disguise his aims and more than happy to outline his own qualities, has led to accusations he was more style than substance.
The jokes about "Tactics Tim" and the trademark gilet worn on the touchline were delivered with a touch of scorn, suggesting Sherwood was an image manager without the track record to back up the reputation.
Sherwood, to his credit, was happy to be in on the joke as he brought a dash of colour to the Premier League with his animated touchline antics and quotes with a touch of gold.
Now he can offer up Villa's display, and the manner in which he outflanked Liverpool manager Brendan Rodgers, as evidence to anyone questioning his right to a job of such stature.
If a manager's job is to produce a team in the right frame of mind and approach for a big occasion, Sherwood's day was a complete triumph at Wembley.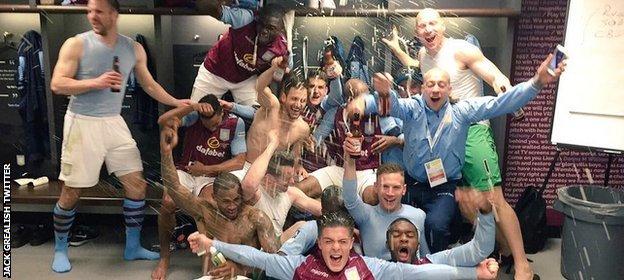 Villa not only looked more combative and energetic than Liverpool - despite being robbed of the pace of injured Gabriel Agbonlahor - they also looked more relaxed and in the mood from the moment the first whistle sounded.
Sherwood sent out a team that looked convinced of their own ability to beat a Liverpool side who started as favourites, with the romantics hoping fate would push them towards their destiny as the FA Cup final is played on captain Steven Gerrard's 35th birthday in what would have been his final appearance for the club.
Villa were organised, dangerous, played to their strengths and never looked daunted for one second of a compelling performance. Sherwood is a hungry manager and Villa looked like a hungry team.
If the nickname "Tactics Tim" was originally intended as a jibe, he could turn it back on his detractors at Wembley with relish.
Faith in youth helps to clears the air at Villa
Sherwood's predecessor Paul Lambert ended his reign as a man weighed down in the mire of a club that looked to be heading nowhere other than towards the bottom of the Premier League. The surroundings at Villa Park were stale.
Since Sherwood's arrival, the great old stadium has been awash with positive thinking. The dank atmosphere of the last days of Lambert has been fumigated. The air has cleared and this was a club alive again as manager and players celebrated in front of Villa's support at Wembley.
And if Sherwood's approach can be personified by one player, it is by 19-year-old Jack Grealish, who strolled around Wembley as if it was his second home, confidence lifted by the trust of his manager.
Much of Sherwood's reputation has been built on his willingness to place his faith in young players. He was an advocate of youth at Spurs and all the indications are he will continue at Villa.
At White Hart Lane, Harry Kane, Nabil Bentaleb and Ryan Mason were all pushed forward by Sherwood and at Villa, Grealish could become the shining symbol of this policy.
Grealish, at times, looked locked in a laid-back world of his own, strolling round with his socks rolled down while playing a part in both goals. He deserved the standing ovation he received when he finally ran out of steam.
It was the sort of performance a teenager could only give with the confidence of knowing he had the trust of his manager - that his manager was happy to see him be ambitious in advanced positions.
Sherwood is the sort of personality who removes fear from youngsters and seems happy to let them play without inhibitions. In other words, he provides the perfect environment for progress.
Sherwood looks to have a sure touch with young players - perhaps because of his own enthusiasm and ambition - and this will be good news, not just for Villa but for any international managers hoping to see home-grown products given their chance.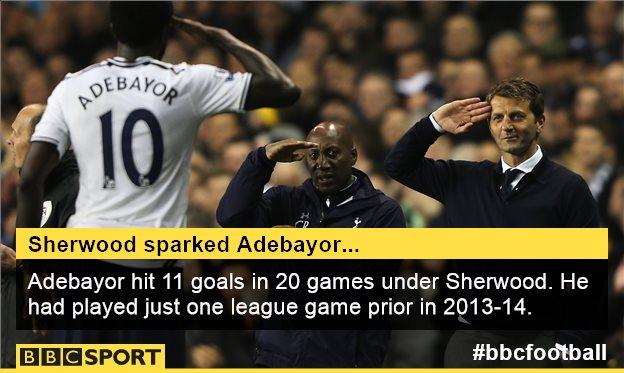 'Bristling' Benteke unleashed
As he did at Spurs when he threw an arm around the enigmatic Emmanuel Adebayor to great effect, Sherwood has made it his business to revitalise Aston Villa's fiercely dangerous Christian Benteke - with spectacular results.
Sherwood has been blessed by good fortune in that his arrival coincided with Benteke finally shrugging off the after-effects of one of the most serious injuries any footballer can suffer, a ruptured Achilles tendon, but make no mistake Villa's manager has unleashed the inner beast in the giant Belgian.
Benteke's goal against Liverpool was his ninth in his last seven games but it was his overall contribution that was the key.
Benteke a changed man

Before Sherwood arrived

Since Sherwood's appointment

Games played

18

10

Games started

15

10

Goals

3

9

Shots

42

26

Shots on target

16

17

Assists

1

2
From the first whistle he made life uncomfortable for Liverpool's powerful defender Martin Skrtel, who has never flourished against Benteke, as well as making Emre Can, less physical and less accomplished in the air, a prime target.
This also does Sherwood credit as it was a copy of the tactic Manchester United used against Liverpool at Anfield in their recent 2-1 win, when Louis van Gaal specifically targeted Can with Marouane Fellaini. There should be some sympathy for Can as he is a natural central midfield player and an understandable weakness has been exposed.
But it was Benteke's bristling attitude that did the job. He was a constant source of anxiety to Liverpool with his presence and his danger, demonstrated by his sidefoot finish for Villa's equaliser.
It may not take a work of genius to spot that a fit and firing Benteke can be an irresistible force but Sherwood proved he could do it once at Spurs with Adebayor - who scored 11 goals in 20 games under him at White Hart Lane - and has now done it again with the 24-year-old.
The statistics tell the tale. This season he scored only three goals in 18 appearances under Lambert while he has scored nine in 10 under Sherwood.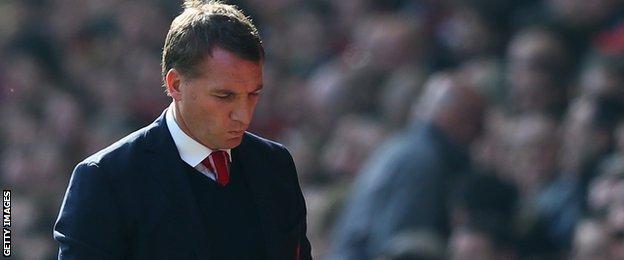 Liverpool's 'unholy mess'
Liverpool manager Brendan Rodgers had a dreadful day, his struggles personified by a switch in formation from a back three to a back four after 20 minutes, then taking off Lazar Markovic at half-time and moving captain Steven Gerrard back to a deeper role.
Tactically Liverpool looked lost - but in reality they looked lost from the start as more doubts surfaced about a talented team's ability to cope with big-game pressure. As has happened against Arsenal and Manchester United recently, Liverpool's own pressing game was turned back on them and they struggled to cope.
When it comes to the pressing approach that is the fulcrum of Rodgers' tactical work, it seems this Liverpool team can dish it out but cannot take it back.
Villa had all the ideas and momentum in midfield, which prompted that early switch, and while it is easy to be wise after the event regarding the selection of Gerrard, who looked horribly off the pace, it looked the logical choice when Lucas was ruled out injured.
Rodgers introduced Mario Balotelli at the start of the second half but it did little to shift the emphasis of the game, although he had a late goal incorrectly ruled out for offside.
Rickie Lambert's desperate late introduction summed up an FA Cup semi-final that was little more than an unholy mess for Rodgers and Liverpool.
He must now try to overcome the odds and secure a place in the Premier League's top four but the statistic that he is the first Liverpool manager since the 1950s not to win a trophy inside three seasons will be used as a stick to beat him.
Liverpool's American owners were strident in their support when he struggled earlier in the season - but this is a campaign that will be reviewed through a prism of failure if they cannot make the top four after semi-final losses in the two domestic cup competitions this season.