Garth Crooks's team of the week: Grealish, Kane, Toure, Benteke

By Garth Crooks
Football Analyst
Last updated on .From the section Football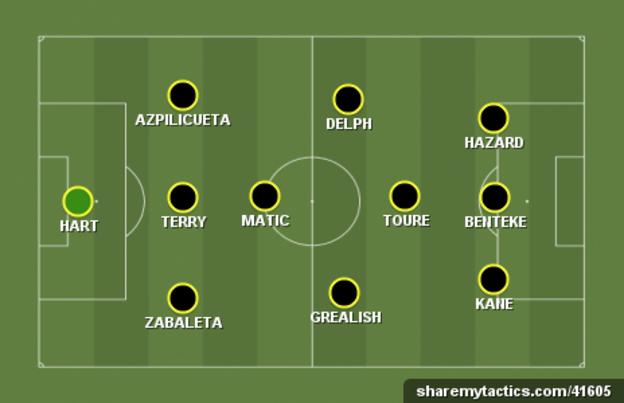 The FA Cup semi-finals showcased plenty of drama over the weekend but there were significant milestones in the Premier League too.
Victory for a youthful Aston Villa over Liverpool at Wembley was one of the highlights while Chelsea continued their march to the top-flight title with a comprehensive shackling of Manchester United.
Manchester City got back to winning ways against West Ham and Harry Kane's 30th goal of the season helped Tottenham to an important win at Newcastle, who look like they might be dragged into the relegation dogfight.
Here are the players who impressed me for my team of the week:
GOALKEEPER - Joe Hart (Manchester City)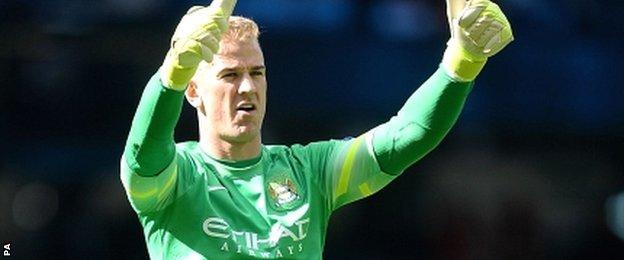 Whatever happens to Manchester City boss Manuel Pellegrini in the summer, the club cannot afford to lose goalkeeper Joe Hart. The England number one has arguably been City's most consistent performer regardless of their under-par season. In the win over West Ham, he made a string of important saves after momentary lapses in defence and claimed a clean sheet with an excellent save. Still a safe pair of hands.
DEFENDER - Cesar Azpilicueta (Chelsea)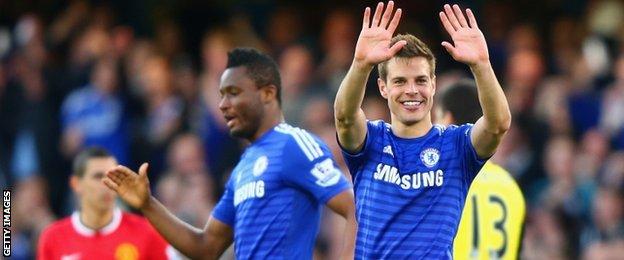 This full-back is starting to look like a world-class defender. He is almost unrecognisable from the player I saw arrive at Stamford Bridge, who struggled to embed himself in the Chelsea line-up. The 25-year-old was superb in the 1-0 victory over Manchester United and he had to be - Chelsea spent most of the time defending.
DEFENDER - John Terry (Chelsea)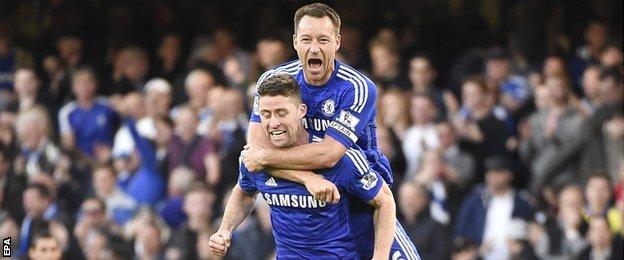 Having beaten Manchester United, John Terry said in his post-match interview that it felt like Chelsea were champions. Even if you are not quite there yet, there's nothing wrong with feeling that way.
It was Terry's tackle on United striker Radamel Falcao on the halfway line that dispossessed the striker and led to Chelsea's winner. Terry might not be my favourite player, but I know a winner when I see one.
DEFENDER - Pablo Zabaleta (Manchester City)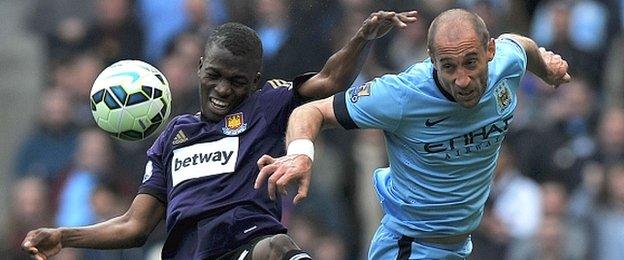 Against West Ham, Pablo Zabaleta was a very different player than the one I saw against Manchester United the previous weekend. On Sunday, I lost count of the perfectly-timed tackles made by the Argentine defender. He played like someone with a point to prove. Maybe the criticisms that were levelled against the champions in last week's derby defeat focussed his mind.
MIDFIELDER - Nemanja Matic (Chelsea)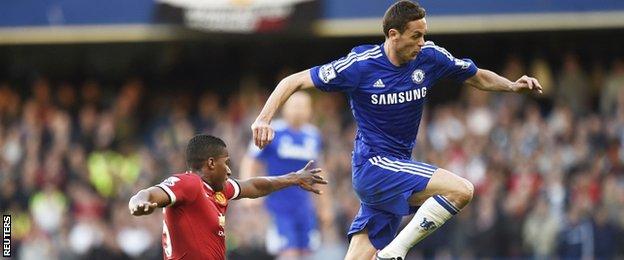 I find it particularly interesting that, at a time when Chelsea are not playing their best football, Nemanja Matic is. During the past few weeks, the Blues have got the results without providing the elegance we saw at the beginning of the season. Matic, meanwhile, has looked imperious and Chelsea impregnable in their last three games.
Regardless of what Louis Van Gaal said about Manchester United's ability to retain possession, it was Chelsea who won the match. It doesn't matter how many times a team touch the ball, if you can't translate that into goals, you're prone to defeat.
MIDFIELDER - Fabian Delph (Aston Villa)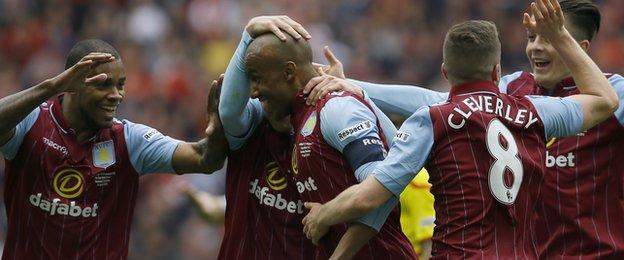 A lot has been said about Fabian Delph and how good he can be. I've seen this lad play for England and he certainly looks the part but I've never seen him perform as well as he did in the FA Cup semi-final win over Liverpool. It looks like Villa boss Tim Sherwood has inherited a leader while England boss Roy Hodgson has someone to replace Frank Lampard in his midfield.
MIDFIELDER - Yaya Toure (Manchester City)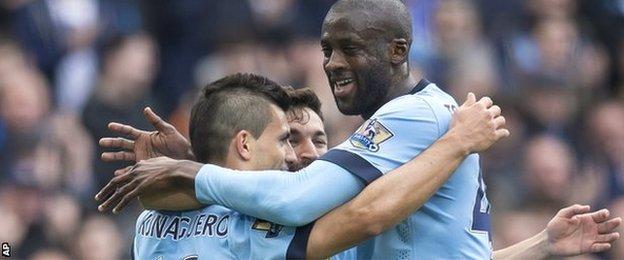 Of all the criticism surrounding the recent performances by Manchester City, the most hysterical was that made about Yaya Toure's so-called poor attitude. This player participated in the 2014 World Cup in Brazil, before City attempted to defend their title this season. Six months into it, Toure went to Equatorial Guinea to lead the Ivory Coast to their second Africa Cup of Nations title. Manuel Pellegrini then put him straight back into a Manchester City side, in a desperate attempt to rescue an ailing season. I can't remember the last time Toure missed a game for club or country. He was outstanding in City's victory over West Ham and so was his attitude.
MIDFIELDER - Jack Grealish (Aston Villa)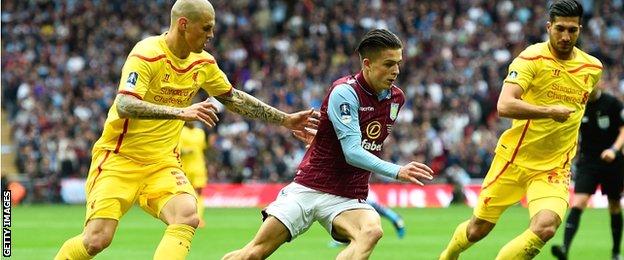 It's official: Tim Sherwood is doing more for young home-grown players than any other coach in the Premier League. He was responsible for giving Andros Townsend and Harry Kane their chance when he was in charge at Spurs and he's now doing the same with Jack Grealish at Villa Park.
I thought the 19-year-old Brummie was sensational against Liverpool at Wembley and Villa seemed to cope with the occasion far better than the Merseysiders, many of whom had far more experience. If Villa can beat Arsenal in the final, young Jack could emulate his great, great, grandfather and lift the FA Cup 110 years later. Who said the magic of the FA Cup has gone?
FORWARD - Eden Hazard (Chelsea)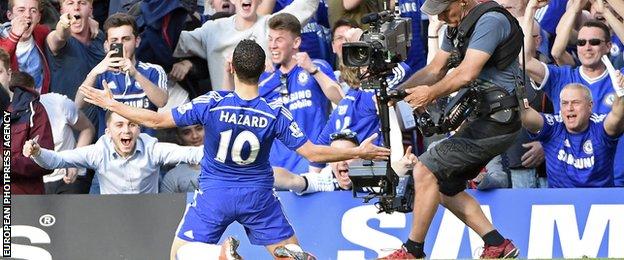 I have always maintained that the Football Writers' Footballer of the Year should have an indelible link with the Premier League title winners. Last year, my choice was Manchester City's Yaya Toure and this year it will be Eden Hazard. It's all very well scoring goals on their own but you must take into consideration who they are against and in what circumstances. Yet again, Hazard put the ball in the net on the big occasion and when it mattered as he scored against Manchester United. The fact it's taken Chelsea a step closer to what is now an inevitable Premier League title should not be ignored.
FORWARD - Christian Benteke (Aston Villa)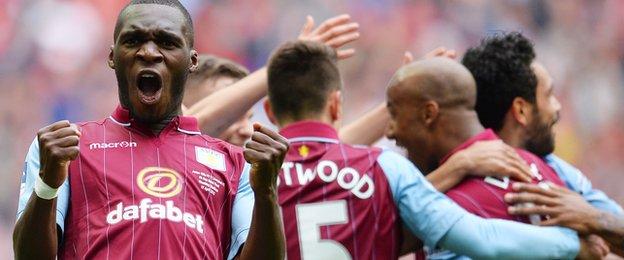 Aston Villa have had some amazing strikers over the years. Brian Little and Gary Shaw are two names that spring to mind but Christian Benteke could soon be joining those ranks if he helps Villa beat Arsenal in this year's FA Cup final. His goal against Liverpool was taken with his normal dexterity. His goals are already responsible for giving the Claret and Blues the best chance of staying in the Premier League and to lift the FA Cup as well would put him among Villa's greats.
FORWARD - Harry Kane (Tottenham)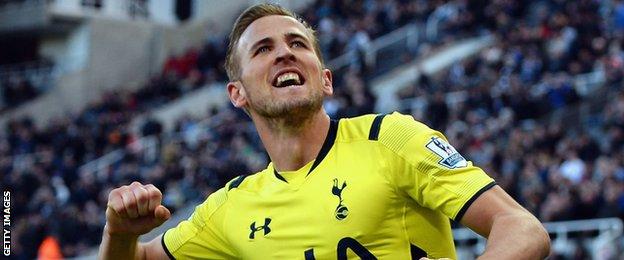 Well, he's back to scoring ways again and he led the line brilliantly in Tottenham's 3-1 victory over Newcastle at St James' Park. Having now scored 30 goals, he must be the clear favourite to pick up the PFA Young Player of the Year and I wouldn't be surprised if he lifted the Players' Player as well at their awards dinner next Sunday. He's had an amazing season.