Man City 2-0 West Ham: What has gone wrong with the Hammers?
Last updated on .From the section Football

MOTD2 pundit Jason Roberts explains why West Ham's performance in their 2-0 defeat by Manchester City was evidence of the issues facing Hammers boss Sam Allardyce, whose team were fourth at Christmas but have won only two out of 16 Premier League games since then.
Sam Allardyce's position as West Ham manager has been in doubt for a while now, and I think we saw on Sunday how the growing uncertainty over his future is affecting his team.
When you are a player, you look to your manager for leadership, especially when you are playing a brand of football like Allardyce's, which demands discipline and commitment to the cause.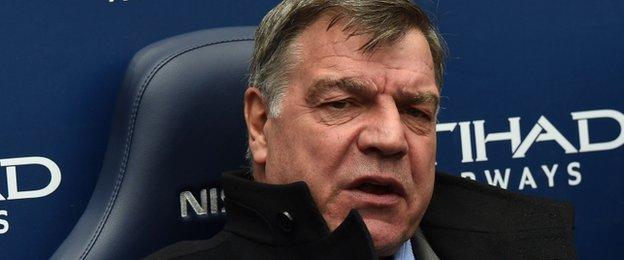 I know from playing under him at Blackburn that those are the key factors in a successful 'Big Sam' side, and I did not see any of them in the Hammers' display in their defeat at Manchester City on Sunday.
Instead, I saw a team who did not look like they were buying into the philosophy of hard work and organisation that I know Allardyce usually installs in his players.
'West Ham did not even do the basics'
I was at Upton Park in October when West Ham beat City 2-1, and it was a fantastic performance.
At that stage of the season, they were producing a brand of football that even I was surprised about.
The hallmarks of an Allardyce team were still there - they went long when they had to, they were a threat at set-pieces, they closed people down and they were committed.
But their players also seemed to have far more freedom than usual when they received the ball. It was refreshing, and great to watch.
Injuries have held West Ham back, but there are bigger issues to blame for the way their season has gone downhill in the last few months.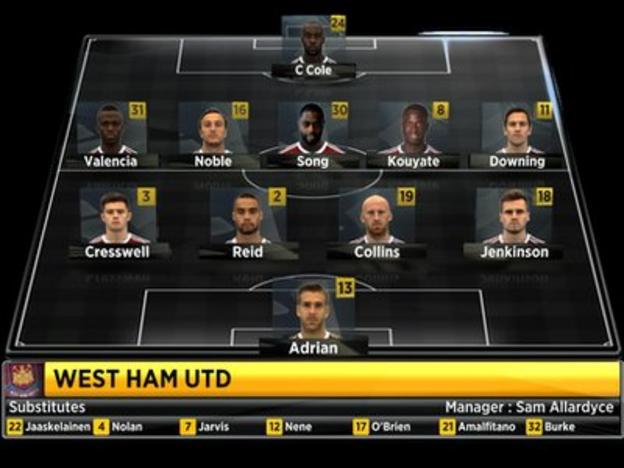 Nine of the team who started against City on Sunday also started that game but they were unrecognisable with their performance at Etihad Stadium.
Far from playing with any freedom, they were not even doing the basics that you would expect from an Allardyce side.
They were not getting the ball forward in the first place, let alone winning any knockdowns.
Time and time again they were caught in possession in their own half and they were not doing enough to get it back. That meant City had lots of space when they attacked, and it turned into a extremely comfortable afternoon for them.
'We were hauled in at 6am for training'
At Blackburn, Allardyce was always very pragmatic - he would always target certain games for wins, usually at home.
He would not have said that City away was a place where you could go out and go for the three points. His approach for games like that was to make clear to the players that we started with a point, and the aim was to work hard to try to leave with one too.
So Sunday's result in itself would not have been an issue for him. It is the manner of the defeat that will cause him most concern. His side did not put in any effort.
With performances like that, I can see why West Ham have won just one of their last 11 games.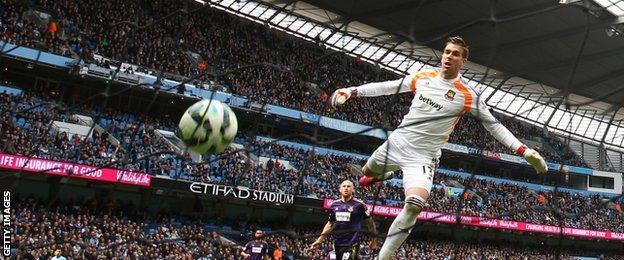 They had a similar run last season but it is not a sequence of results you would associate with Allardyce as a manager, and I certainly did not experience a run like that under him at Blackburn.
One reason for that was that his man-management skills with players were very good - when things were going well, he made things easy for us. When we played badly, then he would make things really bad.
I remember times when we put in performances like that and we were hauled in at 6am the next day for training.
At the moment, though, it looks like Allardyce is having a problem motivating his players. For me, that is a by-product of the uncertainty over his future.
It is no secret that his contract is up at the end of the season, that there is a constant stream of stories about who is going to replace him, and there has been a lack of support for him from above.
That all helps the players - or at least some of them - to not give the commitment he needs for his teams to be successful.
'The players don't need to impress Allardyce'
It is not just the players. For most people watching the situation, myself included, it looks as if Allardyce will not be in charge next season.
But the way the situation has been handled has been messy and I think it has undermined West Ham's season.
When a team of players know the manager might not be in charge for the longer term, then it is harder to motivate the group. They don't need to impress you.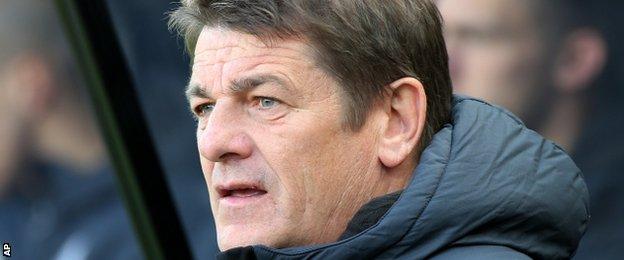 When he was Tottenham manager, Tim Sherwood came out with that quote about being a supply teacher, and he is exactly right. Ask Newcastle boss John Carver too.
That is the problem Allardyce has to deal with at the moment - it will be very difficult for him to turn things round before the end of the season, unless he gets a new contract.
If that happens, the players will recognise they are playing for their futures under this manager.
At the moment, though, it is easy for them to think that if a new man does come in, it offers them a clean slate.
'Hammers fans should be careful what they wish for'
The way West Ham's season has gone has hardly helped Allardyce either, but I don't think that is all his fault.
The Hammers were fourth at Christmas, but if the Premier League had started on Boxing Day they would be 15th, three points off the bottom.
They still have a chance of a top-10 finish which, for West Ham, would be an excellent achievement but on the back of their current form it feels like they have had a bad season when they really haven't.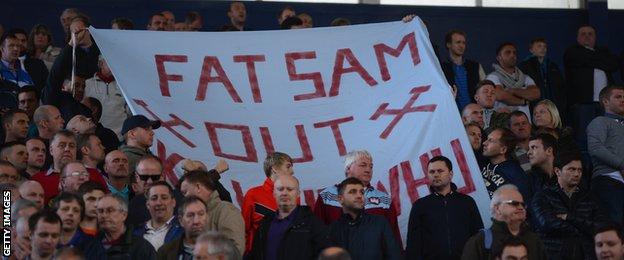 I know Allardyce has always had a frosty relationship with the Hammers fans, but I would give a message of caution to the supporters putting pressure on him now.
They have the right to do that of course, but they should be careful what they wish for because they will have to live with the consequences.
West Ham are a big club who are about to move to the Olympic Stadium, and I am sure there will be a lot of people interested in the job if Allardyce does leave.
But they have to make sure they get the right man to ensure the club continues in the right direction.
Under Sam, regardless of whether you like his brand of football, the club did that. I would stick with him.
Jason Roberts was speaking to BBC Sport's Chris Bevan.