Liverpool: Why have they struggled - and what is next?
By Neil Johnston
BBC Sport
Last updated on .From the section Liverpool1307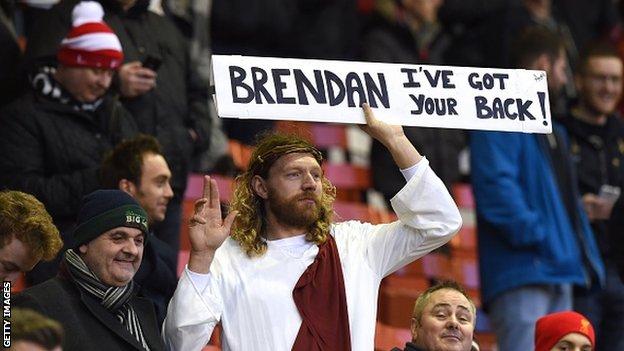 Liverpool manager Brendan Rodgers was close to landing the Premier League title this time last year, a 3-2 win at Norwich leaving the Reds five points clear at the top of the table with three games remaining.
Fast forward 12 months and Sunday's FA Cup semi-final defeat by Aston Villa means Rodgers has become the first Anfield boss since the 1950s not to win a trophy in his first three seasons in charge.
So why have things gone so poorly after such a spirited challenge for the title last season? And as a result of this season's labours, will Rodgers still be on Merseyside next season?
Here, former Liverpool players, an ex-manager, fans and pundits tell BBC Sport what's gone wrong - and what should happen next.
Who's to blame for Liverpool's trophyless season?
Five-time Liverpool title-winner Mark Lawrenson: "When you have young players then you are going to have highs and lows. No-one was moaning when they were on a 13-match unbeaten league run between December and March. The absence of Daniel Sturridge to injury has hurt them. Look at Chelsea. They haven't looked the same without Diego Costa. I'm not saying Sturridge is the same as Costa, but it's a similar situation."
Former Liverpool manager Roy Evans: "There's been a massive transformation - eight players or more came in last summer. It's been a tough season. They lost Luis Suarez and tried to replace him with lots of players but not many have come to the fore."
Gareth Roberts, editor of the Anfield Wrap website: "You have got to say it's both the players and the manager. You can't lay everything at the manager's door. When things go wrong at Liverpool, or any other big club, fans immediately point fingers at the manager."
Liverpool 1995 League Cup winner John Scales: "Liverpool are way short of where they want to be and where the team wants to be. There are lessons to be learned. Obviously signing the likes of Rickie Lambert and Mario Balotelli hasn't worked. It's a new era with Jamie Carragher gone and Steven Gerrard about to go. There are lessons to be learned. It's another transition for the club. The club needs to take stock this summer."
Is Rodgers the right man to lead Liverpool forward?
Mark Lawrenson: "Liverpool have been struggling for a striker all season. I don't see it as a 'Liverpool haven't won anything for three years so let's get rid of the manager' situation. But next season is so important for the manager and Liverpool."
Roy Evans: "I think he is trying to do all the right things. I'd stick with him. There will be cries for his head but I hope they give him time."
John Scales: "I rate Brendan highly. I've been super impressed with him and I do think he is learning all the time."
Gareth Roberts: "Rodgers has had three years - that's a long time in modern football. Brendan has done a lot of good things. Liverpool were so close to winning the title last season, playing the best football since the 1988 side. Brendan is a talented coach but is he someone who will lead and inspire Liverpool? Maybe there is a bit of a question mark."
Have Liverpool moved forward under Rodgers?
Gareth Roberts: "He has taken the club forward from when he arrived. We have reached two cup semi-finals and continually challenged for the top four. Last season a lot of things fell into place. It's a bit harsh to say we have gone backwards. It's not as black and white as that."
Mark Lawrenson: "It looks as though they are going to miss out on the top four but there are positives in the shape of Jordon Ibe, Raheem Sterling, Jordan Henderson and Philippe Coutinho."
Who is available who could do a better job?
Gareth Roberts: "Maybe the owners are ruthless. There was certainly no romance when it came to letting Kenny Dalglish go - and he won a trophy. The people with the power might ask who is better than Brendan Rodgers? They may say Jurgen Klopp. I'm not calling Rodgers out, he's done a lot of good things."
Has Rodgers handled Steven Gerrard well this season?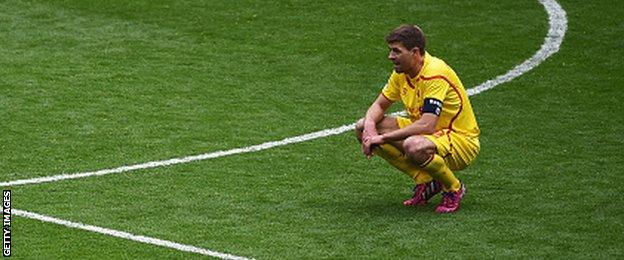 John Scales: "It's done. There's no point in analysing it. Steven Gerrard has been an icon, a brilliant and unbelievable player for Liverpool. I do think Gerrard has been affected greatly by it. This long goodbye has taken its toll both mentally and emotionally."
Roy Evans: "I'm not really privy to it. Stevie packed in playing for his country so he could prolong playing for Liverpool. But he was left out against Real Madrid and Manchester United. It's not all about Stevie though, and Stevie will be the first to say that."
Gareth Roberts: "I think this has been a real struggle for Rodgers. He has, to me, felt like he has had to continually prove himself. He's needed Gerrard on-side almost like an unofficial No 2."
What do Liverpool need to do this summer?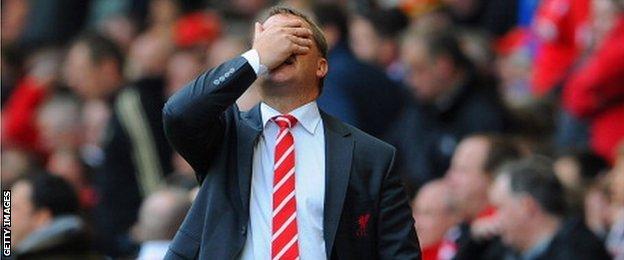 Mark Lawrenson: "I'd say to Fabio Borini and Mario Balotelli 'thanks but no thanks' and get another striker. It doesn't need a complete rebuilding job, probably three or four players."
Roy Evans: "They have to try and bring in a bit of quality, three or four, not as many as last summer. The trouble is if they don't qualify for the Champions League, will those quality players still want to come?"
What do the pundits say?
Former England midfielder Jermaine Jenas: "A lot of Liverpool fans seem unsure as to whether they want Brendan Rodgers to stay as manager. As far as I'm concerned I think he's a fantastic manager and has done a good job. It's just that the loss of Luis Suarez has been too much for them to handle."
Former England defender Martin Keown: "Liverpool looked confused against Aston Villa. You can make too many tactical changes in a match. We didn't see Philippe Coutinho run with the ball anywhere near as much as we should have. I'm not sure Brendan Rodgers got the best out of his side."
Analysis: BBC Sport's Ben Smith
At this stage, I'm told that Liverpool's American owners have no plans to sack Brendan Rodgers.
There is, of course, disappointment at the manner of the defeat at Wembley but also a recognition that some 12 months ago, Liverpool were within spitting distance of the Premier League title.
Their faith was tested in late November, but having coming through that difficult period, he is still their man.
There is no question that FSG admire Jurgen Klopp, but at this stage have no plans to make a change.
One thing worth remembering - Rodgers' current deal would mean that even if FSG were to lose faith in their manager, it could cost as much as £10m to sack him. And the same again to hire a replacement.
Your reaction on social media to Liverpool's FA Cup semi-final defeat:
Ken Gorry: "It's said that Steven Gerrard once carried Liverpool, now Liverpool carrying him."
MJC1973: "Miracle seeing Rodgers change tactics mid half but not helped by the captain being invisible most of it. Play very disjointed."
Jordan Mundy-Gill: "Unfortunately for the romantics, sentiment doesn't win football matches."
Musker_LFC: "BR will be top class eventually. It will probably be too late for LFC though."
MarkmaccaMc: "Never once did our midfielders show for the ball in the game. Confidence was shot, and this was at nil nil."
BillyCampbell_1: "Year 3 of Brendan - decline: no defined style of play, no pressing game, no replacement for Luis, players switched around left, right & centre."