Cardiff City: Should Vincent Tan and Russell Slade spend or save?

By Rob Phillips
BBC Wales football correspondent
Last updated on .From the section Football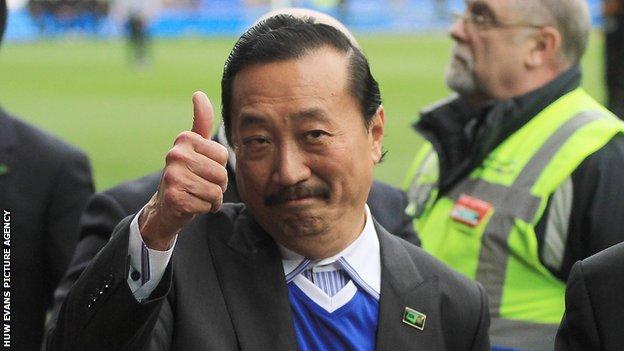 More austerity or a loosening of the purse strings? It's a choice not only faced by voters in the general election.
It is at the heart of a dilemma faced by Cardiff City owner Vincent Tan at the close of a disappointing season.
The Bluebirds have operated both policies under their Malaysian backer and the club now sit in mid-table, well short of their top six target.
Tan spent heavily to finance promotion to the Premier League, an unsuccessful campaign to stay there and sanctioned heavy recruitment last summer for then-manager Ole Gunnar Solskjaer.
Since promotion back to the top flight has looked unlikely this season, cost-cutting has dominated the agenda. Manager Russell Slade has had to slash the wage bill by about £12m.
Slade memorably said the club no longer shops at Harrods. It was a figure of speech, but one caller to my phone-in show on BBC Radio Wales "Call Rob" even said the club is now recruiting at food banks.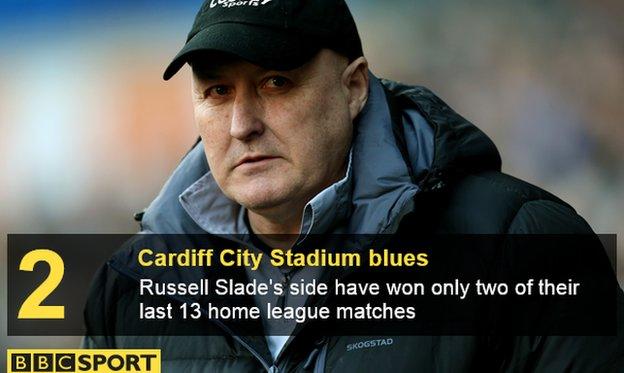 Certainly the January recruitment, compared to the same window in 2013-14, reflected the austerity, as did the surprise loans of defender Matt Connolly and striker Kenwyne Jones to Championship rivals for ''business'' considerations.
Of course, it should not be overlooked that Tan is sustaining the club financially.
The club's latest accounts, for the year ending May 2014, showed the Bluebirds owed about £174m - most of it to Tan.
The annual report said support from Malaysian investors would continue as long as "the business develops as planned.''
Presumably the plan is to return to the Premier League as soon as possible.
Other factors will surely come into play as Tan decides whether to maintain a tight rein on expenditure or speculates to accumulate.
The parachute payments a club receives following relegation from the top flight to the Championship are spread over four years. But they drop dramatically after the second season in the second tier - and that's where Cardiff will be this season.
In contrast, the rewards for promotion next season will be more lucrative than ever, as the record-breaking new multi-billion pound Premier League television deal kicks in for the 2016-17 campaign.
If there was an ideal time to get promotion, then next season is it.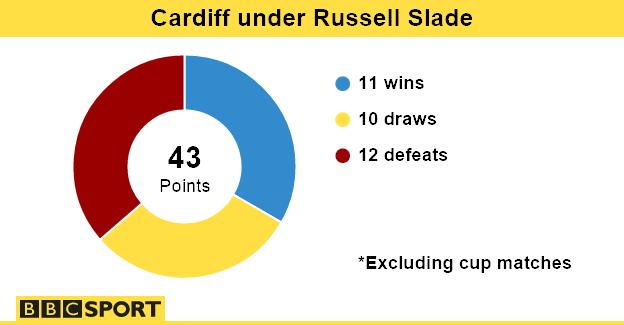 Tan incurred the wrath of many fans when he ordered the club to turn from blue to red, leading to protests and discontent.
Some wondered about Tan's support for the team, given his absence from games for most of the season. But he returned to the Cardiff City Stadium for the game against Wolves in February.
Indeed if he did want out, he would surely find it much easier to sell the club - and recoup at least some of his investment - if they were in the Premier League.
When the club returned to blue in January, Tan said: "The challenge ahead for us is enormous."
Although there has been little in the way of a definitive statement, it appears Slade will be in charge next season, in which case the club will clearly need to support him to mount a promotion challenge.
Similarly to fellow relegated club Fulham, Cardiff have not seriously featured in the promotion race.
Slade's priority has been to cut down an admittedly bloated squad and save money. It is undeniable this approach has reduced the quality.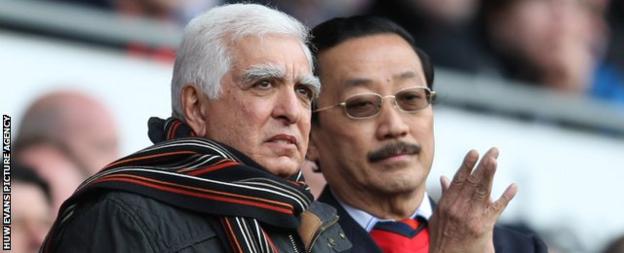 Former Wales and club captain Kevin Ratcliffe put it bluntly after the recent 3-0 home defeat by Bolton Wanderers.
He described the squad as ''not good enough'' and added: "If they keep the bunch of players that they've got I do fear for them next year."
It could be argued that quality costs money. It's no coincidence Cardiff's best performer this season has been the Gabon centre-back Bruno Ecuele Manga.
He was the last big-money signing before the start of 2014-15 at more than £5m from French club Lorient last summer. Then the cuts and offloading of players began.
There are exceptional clubs who get promoted without spending a king's ransom. But the money tends to help - and Cardiff need to spend heavily.
While Tan has interests in other football clubs around the world in Los Angeles and Bosnian club FK Sarajevo, he knows there is only one Premier League.
Some fans are already voting with their feet, with season ticket sales down on a year ago.
Slade has yet to convince some supporters he is the man for the job of sustaining a promotion campaign next season.
Yet if he stays, his aspirations will be governed by the money Tan makes available, which is why the British electorate are not the only people with a huge decision to make in May.