Andy Bishop: Former Bury striker unsure over Wrexham future
Last updated on .From the section Wrexham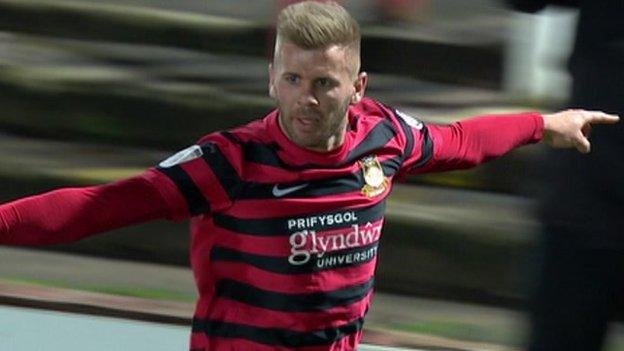 Wrexham striker Andy Bishop admits he has had no contact from the club about his future and that he has had offers from other clubs for next season.
Bishop, 32, is one of a number of Wrexham players out of contract at the end of the season.
The former Bury player, who has scored seven league goals this season, is unsure where his future lies.
"It's a massive club and everyone who plays here would like to stay," Bishop said.
"I've not spoken to anyone at the club which is a bit of a strange position considering I've spoken to a couple of other clubs in the last couple of months who are willing to offer things.
"You can't do anything until the end of the season anyway so I'll get on with it and see what happens."
Wrexham are looking for a new manager following the departure of Kevin Wilkin in March following their FA Trophy final defeat to North Ferriby United.
Bishop, who joined Wrexham on a two-year contract in July 2013, says he would have left the club at the end of the season had Wilkin remained in charge.
"If Kevin had stayed I was leaving and that was the case," Bishop added.
"We'll see who comes in and see what happens. He might come in and not want to sign me, you just don't know.
"You've got to wait and see who's in charge and what their thoughts are."