Les Ferdinand: Newcastle protests indicate 'sad state of affairs' at club
By Neil Johnston
BBC Sport
Last updated on .From the section Newcastle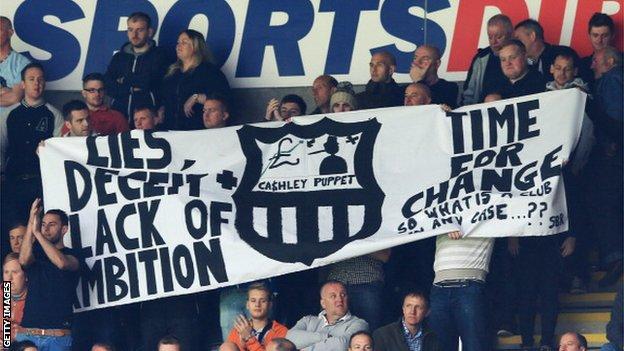 Protests by Newcastle United supporters against owner Mike Ashley are a "sad state of affairs", according to former Magpies striker Les Ferdinand.
Ferdinand, 48, says the club's poor form may be down to players "downing tools" given interim boss John Carver's uncertain future.
"Frustration is starting to boil over," said Ferdinand.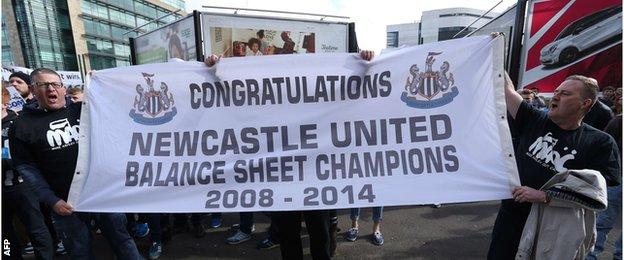 Speaking to BBC Sport, former England striker Ferdinand said he understood why fans were protesting against Ashley.
"Supporters are desperate for progress and I think they feel they have hit a crossroads in recent years and become a mid-table team without really challenging," said Ferdinand, who scored 41 goals in 68 Premier League appearances for Newcastle between 1995-1997.
"Mike has put a lot of money into the club, stabilised the club, but it's pushing it forward that the supporters want and they don't believe he is doing that."
The Magpies are one of the most profitable clubs in the country and last month announced record annual profits of £18.7m, and many fans have criticised the ambition of Ashley.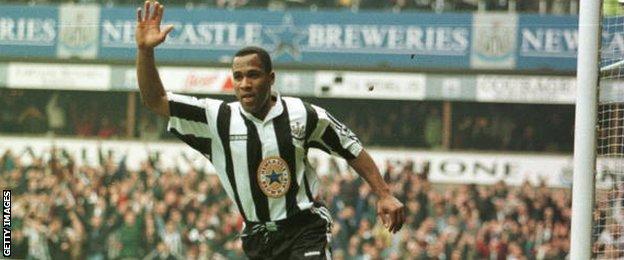 The official attendance at St James' Park on Sunday was announced as 47,427, while their average home attendance this season is 50,834.
Protest organisers are hoping for a repeat of the boycott when Swansea City head for Tyneside on Saturday, but Ferdinand does not believe the tactic will last.
Newcastle United's Fans Forum group has issued an open letter asking Ashley for a "statement of intent" on the club's future plans.
"Their intentions are right," added Ferdinand about the possibility of another boycott.
"But we're nearing the end of the season. People will have two months away from football, they won't be able to wait for it to start again, and they will be back in numbers supporting the team."
Carver took charge when Alan Pardew left for Crystal Palace at the beginning of January.
It was later announced Carver would remain in charge until the end of the season but Newcastle have won just two top-flight games in 2015 and have lost their last six league games.
Ferdinand, now director of football at QPR, believes the uncertainty over Carver's future could be the reason for his former club's poor form.
He added: "I feel for John because I was thrust into that situation with Tottenham Hotspur and Tim Sherwood last season.
BBC football reporter Ian Dennis on Sunday's boycott
It's difficult to gauge how successful the boycott was but I can't recall seeing so many empty seats at St James' Park for a Premier League match. We will never know how many season ticket holders did not attend but the crowd of 47,427 is the lowest of the season. Boss John Carver refused to use the protest as an excuse, admitting the team "was not good enough".
"When you come in as a caretaker manager until the end of the season and players know you are only there until the end of the season, you get some players that down tools unfortunately.
"Sometimes they down tools knowing this guy isn't going to be the manager next season. It's horrible to say that perhaps they are not trying as hard as they should be trying."
Ferdinand hopes Newcastle make a long-term appointment - whether Carver or someone else - soon after the season ends so he has time to plan for next season.
"Part of the frustrations of the fans is because they haven't appointed a [permanent] manager," he said.
"That's added to everything else that's going on. A new manager coming in, depending on who that manager is, the supporters will get behind them because they want to see the football club doing well.
"The sooner that appointment is made and everyone knows the way forward the better it will be all round."