Newcastle United fans' group wants Mike Ashley response
Last updated on .From the section Newcastle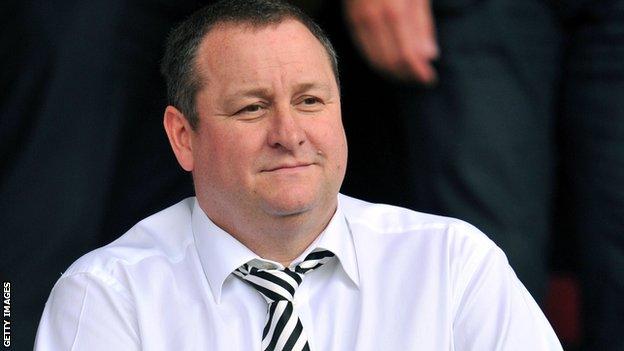 Newcastle United's Fans Forum group has issued an open letter asking owner Mike Ashley for a "statement of intent" on the club's future plans.
The Forum wants Ashley to respond to three issues; the fan boycott, the omission of Jonas Gutierrez and the ongoing head coach situation.
Some fans boycotted Sunday's defeat by Tottenham, with a reported lower-than-average crowd of 47,000.
"We feel that the time has come to show our fans respect," the letter said.
Club officials have liaison meetings with the 14-person forum, of which Ashley is a member, on a quarterly basis.
Gutierrez, who missed the loss to Spurs, has made five appearances for the Magpies this season following his recovery from testicular cancer, the last of which came against Liverpool on 13 April.
One of the sources of fan unrest is the slump in form that has seen seven defeats in eight games under current head coach John Carver. That run, which includes a derby defeat by Sunderland, has taken Newcastle from a safe, mid-table position to a mildly precarious spot seven points above the relegation zone.
Carver has occupied his post since Alan Pardew's departure for Crystal Palace in January but no decision has been made on the position for next season.
Full statement from Newcastle United's Fans Forum
The following statement is from the Fans Forum. This has been produced following discussion with all available members. It has been copied to members of the press.
Communication
Whilst we fully appreciate the club's view on fan communication, we feel that the time has come to show our fans respect and make some kind of 'statement of intent' outlining your proposals to overturn the negativity surrounding NUFC. We would very much prefer this statement to come from Mike Ashley himself, owner of NUFC.
This statement should include:-
A) The club's view on the boycott of 1000s of fans at the weekend. What plans do the owners and operators of NUFC have to correct the current plight that we find ourselves in?
B) The reason why Jonas Gutierrez was left out of the squad. Despite Jonas stating that he was not injured it was clear that Jonas was one of very few players that could be described as 'giving his all' at the recent derby loss. Was the omission connected, in any way, to a comment he made on social media?
C) As the players appear to be playing without any leadership and discipline (Sissoko/Coloccini/Cisse bans) what is the plan going forward in relation to the 'head coach' role? At our recent meeting, [managing director] Lee Charnley stated that, "We asked John to look after the team for the remainder of the season and told him to make sure that we had a 'decision' to make'". There appear to be several sources stating that they believe that John Carver will be head coach next season. Can you confirm that those 'rumours' are 100% inaccurate.
We are in total agreement that we feel that it is appropriate to ask for an urgent response. Any suggestion that we should wait until our final meeting of the year would be met with our overwhelming disapproval. Signed:- NUFC FANS FORUM