Guernsey FC goalkeeper Chris Tardif to play on next season
Last updated on .From the section Football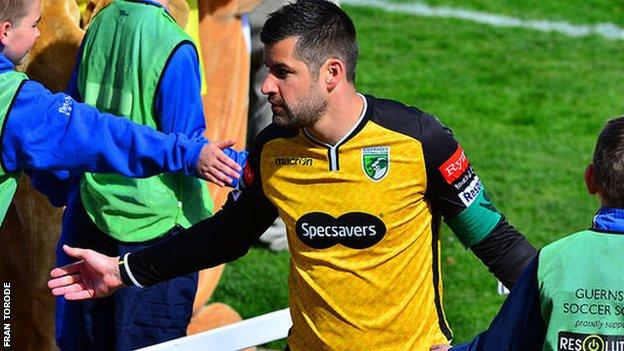 Guernsey FC goalkeeper Chris Tardif has confirmed he will remain at the Isthmian League Division One South club for at least another season.
Tardif, whose former clubs include Portsmouth and Oxford United, is the senior member of the Green Lions squad.
"I can say 100% that I'll be carrying on next year," the 35-year-old told the club website.
"I'm setting myself a challenge to be in the best shape I have been for years at the start of next season."
He thought about quitting football two years ago, but stayed on and helped the club reach the Isthmian League.
"I always said at the start of this project that I knew we could achieve Ryman Premier League standard and I want to help get us there and help us stay there," he said.
"It will never be a case of saying 'in X amount of years I'll give it up' - I'll always know straight away if it's time to call it a day."
Guernsey FC can finish no higher than 10th after they drew their final away game 1-1 at Herne Bay.
Tony Vance's side have won just one of their last six matches and end their campaign at home to sixth-placed Worthing.