Celtic: Scottish FA letter sent on behalf of fans - John Collins
Last updated on .From the section Football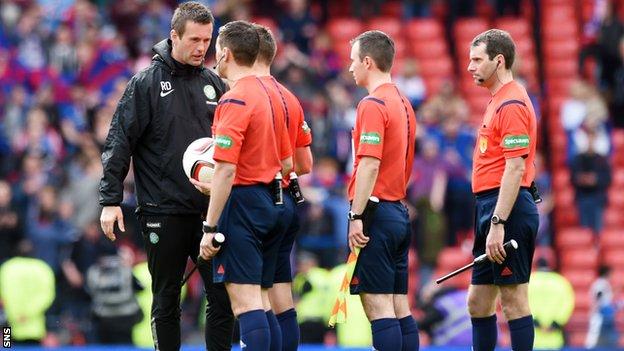 Celtic assistant manager John Collins said the club owe it to their supporters to ask for clarification over why they were not awarded a penalty during the 3-2 Scottish Cup semi-final defeat to Inverness.
Celtic were leading 1-0 at the time.
"It was a key moment in the game that never went our way," said Collins. "We're just asking the question why."
Meekings has since been served with a notice of complaint and offered a one-match ban by the Scottish FA, which Inverness have rejected saying they will "vigorously defend" their player.
The Hampden defeat ended Celtic's hopes of completing a domestic treble, having already won the Scottish League Cup and the club currently leading the Scottish Premiership by five points.
"We're disappointed with that key decision in the game but we've got to move on. I've been in football a long time and the most important thing is how you react.
"We've got a massive support all over the world, and the supporters are all asking the question, so the club has asked on behalf of all the supporters all over the world.
"It was a key moment in a massive game in a massive season. If the correct decision was given then we would be in the cup final.
"That's why the question has been asked because it wasn't just any other game, three points up for grab and you've lost two points. There was a lot more at stake.
"I think anyone who watched the game could see at that moment in time we were playing very well, the momentum was with us, their keeper was making saves, and if the correct decision was made at the time there's only one winner."
Asked if he would support the introduction of video evidence, he said: "100%, because it helps the referee. Two wonderful words we have in football - we keep hearing it, it's fair play.
"So what makes it fairer than video evidence, helping the referee, and the correct decision being made? That's why I'm for video technology."