Inverness CT reap the rewards of John Hughes's approach

By Martin Dowden
BBC Scotland
Last updated on .From the section Inverness CT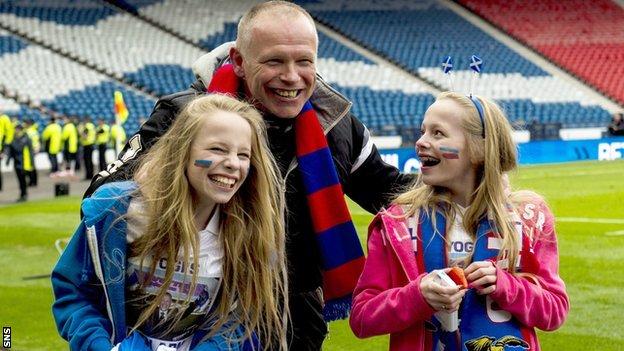 John Hughes called it correctly. "The pressure might just be on Celtic as they chase a treble."
That's what the Inverness Caledonian Thistle manager was telling anyone paying attention in the build-up to the Scottish Cup semi-final, from which his side emerged to face Falkirk in the final at the end of May.
Throughout this season, as Caley Thistle racked up a series of impressive results, the manager came out with technique akin to Babe Ruth, as he thumped suggestion after suggestion that his side could challenge for the title, for Europe, or even a trophy, out of the park.
"We're just Inverness, we're punching way above our weight" was the line.
Yet here they are in a first Scottish Cup final. A first major trophy is within grasp. Let's not forget how close they were in last season's League Cup final, where they lost to Aberdeen on penalties. This is no freak.
Look at the Premiership table. Inverness remain in control to finish third in the league, on course for a European place for next season on two fronts.
They've been under the radar and with shark-like stealth they've seized their opportunity to deliver on a season that's promised more and more as games have ticked past.
Hughes revels in being the underdog, or at least in convincing his squad that they are and the world is against them.
He's admitted it. He wants a siege mentality. If it's not there, he creates it.
Take the kick-off time for the semi-final - 12:15 at Hampden Park. It left a logistical nightmare for travelling fans with no public transport arriving in Glasgow until after the game started.
Hughes used it to his advantage. You can picture him in that dressing room telling his players, "they don't want us here", "they wouldn't do this to other clubs", "see what they think of us", "get out there and show them".
Though not with a "get stuck intae them" mindset.
The plan, it seems, is to keep both the ball and external expectations firmly on the floor, while motivating his players to upset the odds.
Unusually for a side that's used to being the underdog, they'll go into next month's Scottish Cup final as favourites, though Falkirk will more than fancy their chances.
The pressure that brings is something this side perhaps aren't used to and for many this may mark a last opportunity to win a major honour in their career.
Despite his efforts, expectation is now at record levels and how Hughes manages that may prove key over the coming weeks.
A quote attributed to Henry Ford seems apt to describe what's turned out to be a landmark season in the club's short history.
"If everyone is moving forward together, then success takes care of itself."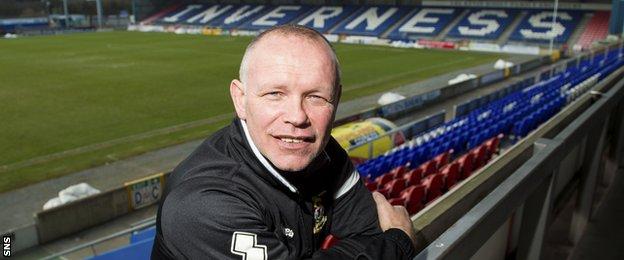 It seems simple and it is.
But there are other factors contributing to Caley Thistle's success. They operate as a unit, with an almost tangible team spirit in which the sum of the parts is more often greater than their individual talent.
It's also a squad that has seen little change in personnel over a considerable period.
What has changed is the approach, with an emphasis on attractive football that's given key players the freedom to express themselves and deliver results.
Even on bumpy pitches, when facing a poor result, the aim is clear; to keep doing the things they've worked hard on since the start of pre-season.
It's something the players have had to adapt to, a sweeping change from what served them well before.
The model previous manager Terry Butcher implemented was effective but critics pointed to a style of play that was far from easy on the eye.
Most expected Hughes to stick with that - after all, why change a successful formula? But he has demonstrated a resolve and determination to do it his way.
It's also easy to forget that, on arrival, Hughes' appointment to replace Butcher was received in lukewarm fashion.
An increasing tendency was emerging for clubs to turn to up-and-coming managers in the mould of Paul Hartley, and he did come close to landing the Inverness job.
Hughes was anointed in some quarters as favourite for the 'sack race' at the start of this season, with many in the Scottish game expecting his charges to struggle.
There was evidence to support that view, despite that agonising penalty-shoot out League Cup final defeat just a few months earlier.
A lack of opportunity to invest in the side meant no significant signings were acquired last summer.
The argument followed that others had strengthened and perhaps only newly promoted Hamilton would save them. That was wide of the mark too.
Quite how much Hughes is driven by being written off over the course of this season can't be clearly defined, but it is fair to say it has rankled.
As he reflects on what's been achieved thus far, he can't be grudged a degree of satisfaction in believing he's more than proved those doubters wrong.