Lunny claims Meekings should not be surprised at missing Cup final
Last updated on .From the section Inverness CT
Former Scottish Football Association compliance officer Vincent Lunny claims Josh Meekings should not be surprised at missing the Scottish Cup final.
The Inverness defender is contesting a one-match ban served by the current compliance officer, Tony McGlennan.
The ban is for denying Celtic "an obvious goal scoring opportunity by deliberately handling the ball".
"Look at the different options - any way you look at it he would have missed the final," Lunny told BBC Scotland.
With Celtic leading 1-0 in Sunday's semi-final at Hampden, neither referee Steven McLean or his additional assistant referee Alan Muir, who was positioned beside the goal, signalled for a penalty when Celtic forward Leigh Griffiths's apparently goalbound header was prevented from crossing the goal line by Meekings' arm.
Caley Thistle went on to win the match 3-2 after extra-time.
"I suppose it's natural to feel sympathetic for a player who is potentially missing out on a place in the Scottish Cup final which might be a once-in-a-lifetime chance," said Lunny.
"But if Steven McLean had seen it at the time, he'd have been sent off and he'd be missing the final had Inverness gone on to win; and if he (Meekings) hadn't done it, Celtic would have scored and there's a good chance they would have gone on to win, so again Josh Meekings would have missed the final."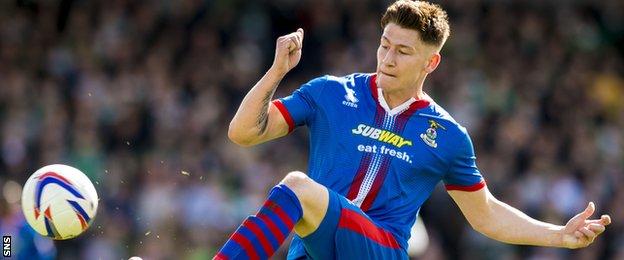 In a statement issued on Tuesday to announce they would contest the "offer" of a one-match ban, Inverness said they would "vigorously defend" their player who, they say, is "mentally shattered at the turn of events".
But Lunny believes they face a tough task to clear Meekings to play in the showpiece final against Falkirk at the end of May.
He said: "I think it will be an uphill struggle, especially after (Inverness manager) John Hughes's comments on the radio earlier this week saying that it was a sending-off matter.
"They've really got to try and argue that it wasn't an obvious goalscoring opportunity, which I think is going to be a tough one.
"The very fact that the action has been raised is confirmation that all six match officials missed it and the fact that the compliance officer thinks it is a sending-off offence suggests that the referee has got it wrong, but the panel should be left to come to their decision on their own without any other external pressures."
Lunny revealed that it is is the first time under the current disciplinary system that a notice of complaint has been issued for an allegedly deliberate handball.
"It is the very first one of the four years of protocol," he told BBC Radio Scotland's Sportsound programme.
"It's been discussed previously in theory at the various annual reviews. It's clearly covered by the rules; it's whether it's a missed sending-off offence not seen by the match officials and that covers all potential sending-off offences.
"So it would be dangerous not to do it because you would then be making an exception that is not present in the rules."
BBC Scotland has learned that Celtic will receive a letter from the SFA acknowledging that the match officials made a mistake.