West Ham: Will other Premier League clubs reduce ticket prices?
By Saj Chowdhury
BBC Sport
Last updated on .From the section Football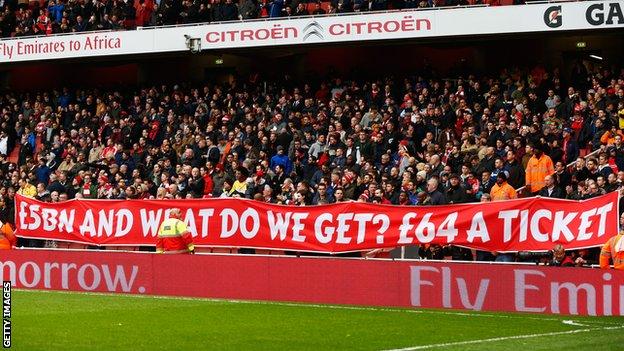 Following West Ham's announcement that they will reduce season ticket prices as a result of the Premier League's record television deal, BBC Sport asked the other 19 clubs whether they would follow suit.
The Hammers will make a £289 ticket available when they move from their 35,000-capacity Upton Park to the 54,000-seater Olympic Stadium for the 2016-17 season. The current cheapest ticket in the top flight is £299 - offered by Manchester City.
West Ham say the reduction - from prices between £620 and £940 - has been offset by the new three-year record Premier League TV deal, worth £5.13bn.
The club's vice-chairman Karren Brady told BBC Radio 5 live: "I sit at the Premier League meetings. The subject of most debates is how to make football more affordable. I can't speak for other clubs. We feel we had an obligation."
When asked whether the prices were reduced in order to fill the new arena, Brady said: "We are not selling an inferior product for less, but a far superior product for less.
"We made a decision as a board that we put some of the money back from broadcast revenue into subsidising tickets for our supporters."
Many of the clubs who have responded say they have not yet planned for that season. Some said they have already implemented reductions in prices across the board.
For more information on the cost of attending football matches check out the BBC's Price of Football study.
Premier League
Arsenal:
"We have already announced ticket prices are being frozen for the 2015-16 season and we continue to drive a number of initiatives which provide tens of thousands of tickets priced between £10 and £26 across a season. It is also important to remember our season-ticket package includes 26 matches"
Aston Villa:
No response yet
Burnley:
"No plans as yet but it's a possibility that others might follow suit. You've got to strike a balance between revenue to get a team on the pitch and affordability."
Chelsea:
"We review ticket prices each season."
Crystal Palace:
No response yet
Everton:
No response yet
Hull:
Prices for seniors and adults have increased 6% for next season. Plans are not concrete for the following season.
Leicester:
Don't participate in such surveys
Liverpool:
No response yet
Man City:
City already have £299 season tickets. No plans yet for 2016-17 season.
Man Utd:
Unlikely to be a decision until the next financial year - after 30 June.
Newcastle:
Current deals give fans the chance to sign up to long-term season-ticket price-freeze deals.
QPR:
No comment
Tottenham:
No plans to reduce prices ahead of move to new stadium
Southampton:
No plans for the 2016-17 season yet
Stoke:
"Frozen season ticket prices for the last seven years."
Sunderland:
"Our season cards are already some of the cheapest in the top flight. We reduced the price of all season cards last season and they have been frozen at those reduced prices for next season's campaign."
Swansea:
"We announced a drop in season ticket prices in December, so West Ham aren't the first. It was a general £10 drop across the board, although our season tickets are generally one of the cheapest across the board when averaged out. Starting at £419 (adult) and a top price of £489."
West Brom:
No plans for 2016-17 yet - dependent on league status.