Northampton Town: Lewis Hornby needs fresh start - Chris Wilder
Last updated on .From the section Football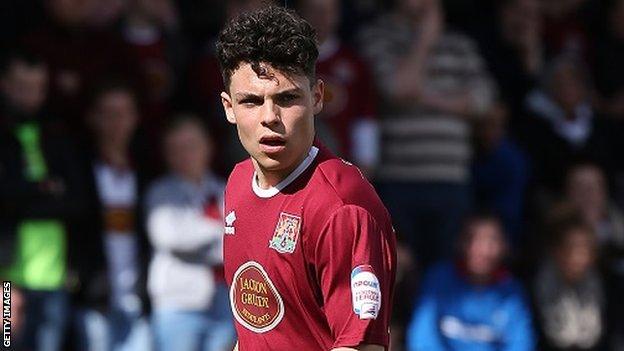 Northampton Town manager Chris Wilder believes Lewis Hornby needs a fresh start after confirming the popular midfielder is being released.
Hornby, 19, made 29 appearances in 2012-13, including in the play-off final defeat against Bradford City.
However, he has not played at all in the last two seasons due to injuries.
Wilder said: "When I spoke to him he understood, and I got the vibe from him that maybe a change of environment and scene might be best for both parties."
Wilder told BBC Northampton he intended to bring in players whose fitness he could rely on next season.
"We need people who are reliable and robust," he said.
"I'm not saying we're never going to take a chance on a player, but 90% of the players we bring in next year will have to have played their games, and be able to cope with the rigours and demands of a tough League Two campaign, and hopefully a successful one.
"It's a shame because when I came to the football club people were talking about [Hornby] in a good light, but I haven't been able to see him kick a ball, even in training, for quite a while.
"It's up to him to get himself going again, mentally and physically. Young players get released and it's down to them how they cope.
"It happened to me as a 19-year-old, and you have to fight and earn the right to get yourself going again.
"He might find himself up a level, you never know, but whatever level he finds himself at he has to go and have a good pre-season somewhere and get himself fit and reliable and robust, and have a little bit of luck, because he's not had that, but we have to move on and so does the boy."