Desiree Scott: From a home World Cup to Wembley with Notts County
Last updated on .From the section Women's Football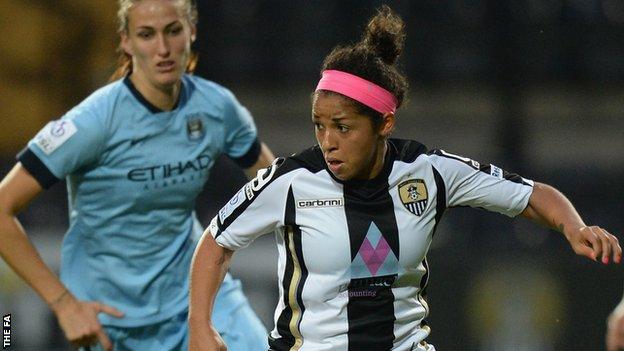 Desiree Scott eats, sleeps and breathes her dream of playing at a home World Cup with Canada, while 4,600 miles away her Notts County team-mates are one step from what she hopes is a fairytale run to Wembley.
For the first half of the Women's Super League season, Notts County have allowed the combative midfielder to remain in a Vancouver camp with her national side on the other side of the Atlantic Ocean.
But her Lady Magpies team-mates are only a tweet away.
Through social media and the hundreds of messages that greet her every morning, Scott has revelled in their FA Women's Cup run which takes them to Goodison Park to face Everton in Sunday's semi-final and to within one game of the first women's final to be held at Wembley, on 1 August.
"I hope they can seal the deal and I can join them for the final," Scott, 27, told BBC Sport.
"It's storybook type of stuff. You remember those stadiums. To play an FA Cup final, one of the biggest tournaments in the UK, would be fabulous.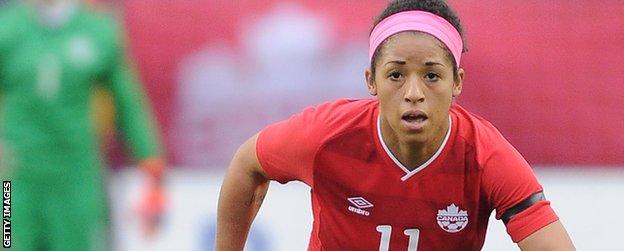 "I'm always checking in on my girls, seeing how they are doing and watching their success so I can be on pace when I get back there with the team.
"I'm sad to be missing all the leg work with the team, but hopefully I can get right in there when the World Cup is over.
"It will be 'OK guys, I'm ready for Wembley. Thank you'."
Already this week Scott has realised the first part of her ambitions, being named in Canada's 23-member World Cup squad.
"It's starting to set in now, there are a few nerves because this is the biggest tournament of our lives coming to our backyard," said Scott.
"With the rare opportunity ahead of us, with the World Cup in Canada, we didn't want to leave any stone unturned and have given ourselves the best shot of succeeding.
"I've been with the residency programme for the past few months. We are training as a team every day, five days a week, and coming together as a unit.
Getting acquainted on the international stage
Desiree Scott got to know her new Notts County team-mates Laura Bassett and Alex Greenwood in the final of the Cyprus Cup, with both defenders starting for England in their 1-0 win last month.
Three other Lady Magpies, Carly Telford, Jess Clarke and Amy Turner, were on the bench.
While Scott says there is no such thing as friends on the pitch, the two sides saw plenty of each other as they shared hotels and the Notts County team-mates from both camps shared a few cups of tea.
"It is a unique situation and I don't think a lot of teams get that opportunity."
Scott, affectionately dubbed 'The Destroyer', says her maiden campaign in England's top flight with Notts last season helped her grow as a player.
From getting a British education in the art of a crunching tackle to gaining a better understanding of Canada's English boss John Herdman, Scott says it was a valuable education.
"A lot of the terminology when he (Herdman) came to the team, I just thought 'what is this lingo he keeps using?'. Now I've been able to help out with some of his quirks," said Scott.
"My nickname might be 'The Destroyer', but the tackles they put in kept me on my toes.
"The league helped me develop as a player and was definitely no walk in the park.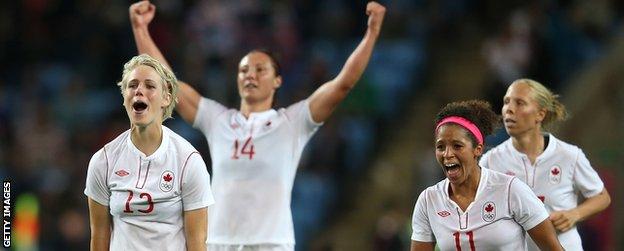 "I'm a hometown girl, so travelling across the pond was a bit of a trek for me. I gelled really well with the team, the coaches were amazing and the fans' support was awesome."
Scott was part of the Canada squad that collected bronze at the London 2012 Olympic Games, having got past Team GB at the quarter-final stage.
The medal success completed a remarkable turnaround after Canada lost all three of its group games in the previous World Cup.
Now, they are preparing to host to what is shaping up to be the biggest tournament in the history of the women's game.
"It's massive. We walk the streets and people are wishing us luck," said Scott.
"The buzz is building and building as we get closer to that start date. The country will behind this tournament, not just for us but excited to see top-class football in our backyard.
"We are beyond pumped for it - I'm beyond pumped for it. I'm just excited to get the tournament rolling."