Real Madrid v Atletico Madrid: Javier Hernandez's golden night
By Andy West
Spanish football writer
Last updated on .From the section European Football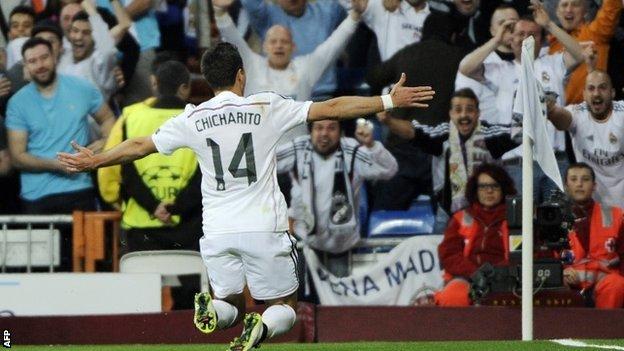 The phrase 'match-winning hero' has not been employed to describe Javier 'Chicharito' Hernandez very often since he joined Real Madrid on loan from Manchester United at the start of the season.
The Mexican striker has rarely featured for Los Blancos, finding himself firmly behind Real's 'BBC' forward line of Karim Benzema, Gareth Bale and Cristiano Ronaldo. And manager Carlo Ancelotti rarely rotates his squad, even for home games against lesser opposition.
After just six starts in all competitions, it was by no means certain that even injuries to both Bale and Benzema would be enough to earn Hernandez a place in the starting line-up for Wednesday's Champions League quarter-final with local rivals Atletico.
Other options were endlessly debated: midfielder Isco as a 'false nine'; youngster Jese Rodriguez; Ronaldo as an out-and-out striker.
But in the end, Ancelotti was sufficiently impressed by Hernandez's hard-working performances in recent league games against Eibar and Malaga, which saw him score in the first and create a goal for Ronaldo in the second.
The decision was made: Hernandez would make his first significant start for Los Blancos in their biggest game of the season to date.
And now, following his 88th-minute winner on Wednesday to keep his team's Champions League defence alive, Hernandez is being described by Madrid-based paper Marca as 'The Great Unexpected Hero' and 'Golden Chicharito'. How fortunes can change.
Madrid derby match stats

Real Madrid ended Atletico's best-ever run of derby results. They had won four and drawn three of their previous seven meetings - all this season.

Cristiano Ronaldo has now assisted 19 goals this season - his record for a campaign. His Champions League scoring record for Real Madrid is now less than one a game; 60 in 61

Real Madrid goalkeeper Iker Casillas made his 150th Champions League appearance (including two qualifiers). He has kept 50 clean sheets - matching Edwin van der Sar's record.

Sergio Ramos, who was played in midfield rather than his usual defensive position, attempted more passes than any other player - 71. He had an 83.1% accuracy.
The bench beckons again
In Hernandez's defence, it would be wrong to suggest he has been a failure during his time at the Bernabeu.
Considering the amount of time he has spent on the pitch, he has scored a decent number of goals - four in 421 minutes of La Liga football, averaging just under a goal per game.
Furthermore, he has shown little inclination to rock the boat by complaining about his lack of playing time, instead largely keeping quiet, working hard and making the most of the limited opportunities that have come his way.
And in the short-term future, he will receive more playing time because Benzema's knee injury will keep him sidelined for another couple of weeks.
During that period Real face a number of La Liga games of crucial importance in their quest to catch leaders Barcelona.
That means Hernandez will almost certainly start at Celta Vigo on Sunday, at home to Almeria next midweek and potentially even in a very tough trip to Sevilla a week on Saturday.
They are all games Real must win, giving Hernandez a chance to further enhance his new-found popularity with the Los Blancos faithful.
But as soon as Benzema returns to fitness, there is next to no doubt that he will be back in the team and Hernandez back on the bench. Internal politics at Real Madrid ensure that certain players are more or less guaranteed starting places whenever they are fit, and the Frenchman is one of those.
So Hernandez can revel in his current heroic status for now, but the brutal truth is that when Real are back in Champions League action on 5 or 6 May, the only way he will be on the pitch is if Benzema's injury takes longer to heal than expected.
Javier Hernandez's Real Madrid goals
20 September, 2014:
Two in 8-2 win away at Deportivo
18 October, 2014:
One in a 5-0 away win at Levante
29 October, 2014:
One in 4-1 Copa del Rey win at Cornella
11 April, 2015:
One in 3-0 league victory over Eibar
22 April, 2015:
Winner in 1-0 aggregate victory over Atletico (Champions League)
Appearances:
24
Goals:
6
Breathing space for the boss
Hernandez wasn't the only big personal winner from Wednesday's action: the result also comes as a great source of relief for Ancelotti.
The Italian remains popular with his players due to the mature and sensible manner of his dealings with them, treating them as grown-ups, talking to them as equals and keeping any personal criticisms firmly in-house.
And last season's Champions League triumph, followed by a club record 22 wins earlier this season, also earned the former Chelsea boss a decent amount of leeway with the demanding Madrid fans and media.
But storm clouds had been gathering following a series of disappointments over the past few months, and yet another defeat to Atletico - who knocked Real out of the Copa del Rey and hammered them 4-0 in La Liga in February - would have resulted in a torrent of criticism.
Although Ancelotti's future beyond the end of the season remains uncertain, with neither he nor club president Florentino Perez prepared to state that he will stay, at least he will be able to go about his job with a greater degree of calm.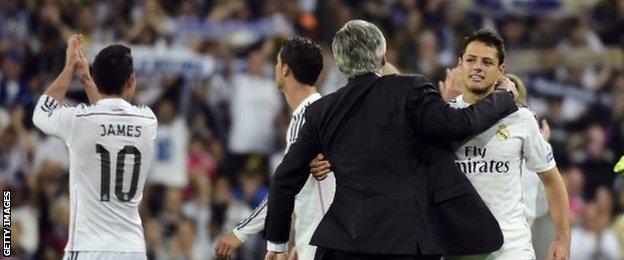 How Ancelotti got his tactics right
The much-needed victory certainly wasn't easily achieved by Ancelotti, who was given some serious pre-game thinking by the absence of four established starters: Benzema, Bale, Marcelo and Luka Modric.
If selecting Hernandez in attack was a risk considering his lack of playing time, so too was a start for Fabio Coentrao at left-back in place of Marcelo.
The Portuguese international has been way down the pecking order this season, playing fewer minutes than fellow defenders Nacho Fernandez and Alvaro Arbeloa. His disappointment at not starting will have been exacerbated by the fact that Coentrao was only just returning from injury and is expected to leave the club in the summer.
But Coentrao delivered a strong performance down the left flank, making both him and Hernandez successful decisions for the manager.
By far Ancelotti's biggest gamble, however, was responding to the loss of Modric by playing Sergio Ramos in the centre of midfield for the first time this season.
The last time Ancelotti selected Ramos to start in midfield was for a Clasico trip to Barcelona 18 months ago. On that occasion, the experiment proved to be a dismal failure and was abandoned with less than an hour played.
More than any other decision, playing Ramos out of position in midfield would have prompted huge criticism of Ancelotti if it had gone wrong again.
But it didn't: Ramos was a solid presence in the centre of the pitch, using his physicality to stand up to Atletico's rugged approach, keeping the shape of the team well and making more passes (71) than any other player on the pitch.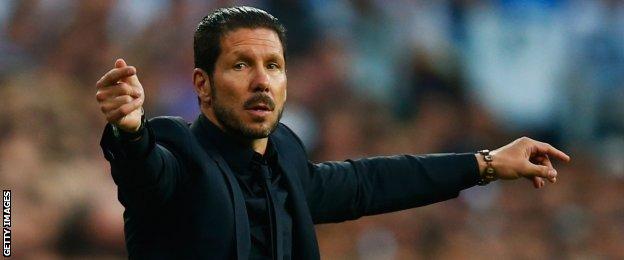 Simeone too negative?
For once, Atletico manager Diego Simeone is the manager coming in for immediate criticism after the tie, with many pundits arguing his approach was too negative over the two legs.
Manolete, for example, a well-known reporter for newspaper AS, said: "The whole tie was lamentable. This was not the Atletico I know," while criticising Simeone's decision to replace dangerman Antoine Griezmann midway through the second half.
It certainly was the case that Atletico's attacking intent was very limited, with Simeone's men primarily concerned with keeping their defensive shape and making sure Real were given as little space as possible down the flanks - a ploy that largely worked.
Atletico may or may not have been playing for penalties, but for much of the game it looked like heading that way.
The Argentine coach has already responded to the criticism by asserting that his team only failed to attack more because Real didn't let them - they played in such a defensive manner because the hosts forced them onto the back foot and kept them there.
Whether that's true or not, it's churlish to aim too much criticism in Simeone's direction after his team slipped to their first defeat against Real Madrid in eight games this season.
And Simeone's exploits in turning his low-budget team into La Liga winners and Champions League finalists will ensure he avoids too much second-guessing despite his team's exit.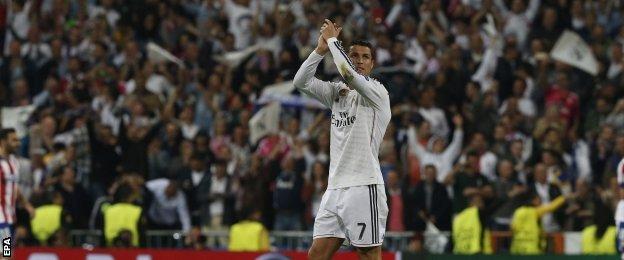 Good news for Barca?
Real's victory on Wednesday night may well have the side-effect of virtually securing the La Liga title for Barcelona.
With so many key absentees - Modric, Bale and Benzema are all set to miss at least the next three league games - it will be difficult for Real to sustain a challenge in two different competitions.
Whether consciously or not, their focus in La Liga may slip, and with it their chances of overturning Barca's two-point advantage may disappear.
That definitely happened last season, when Real fumbled their way through the latter stages of the league campaign, winning just one of their last four games as their attentions turned to their ultimately successful European challenge.
Nobody at Real, of course, will accept the notion that ongoing Champions League involvement will signal the end of their domestic challenge.
But with testing games against Celta Vigo, Sevilla and Valencia to come and the club's priority always firmly fixed on Europe, don't be surprised if it does.