Gareth Bale: Wales winger should stay at Real Madrid - Mark Hughes
Last updated on .From the section Football
Real Madrid's Gareth Bale should resist a return to the Premier League says Stoke City boss Mark Hughes.
Bale, 25, joined from Tottenham Hotspur for a world record £85.3m in 2013.
The Welshman won the Champions League in his first season, but has received criticism.
"He's done everything right up to this point and having a huge impact over there but if he can, stay as long as you can," said Hughes, who spent one season in Spain as a player.
Bale missed Real's 1-0 Champions' League quarter final win over Atletico Madrid with a calf injury.
However, the Wales international has been the subject of some criticism in the Spanish media and was among a number of players whose cars were attacked by fans following a defeat by Barcelona.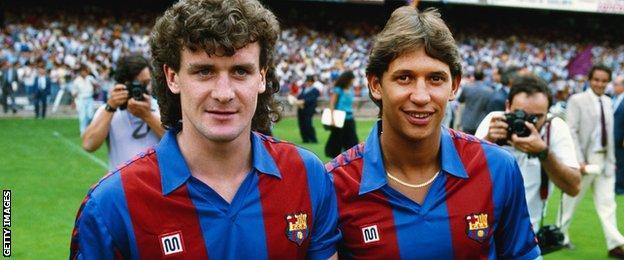 Cardiff-born Bale has been linked with Manchester United and Chelsea but former Wales manager Hughes says Spain is the best place for the ex-Southampton player.
Hughes left Manchester United for Barcelona in 1986 and linked up with England striker Gary Lineker at the Nou Camp under coach Terry Venables.
He endured a difficult time in his only season with Barcelona and spent a year on loan at Bayern Munich before returning to Manchester United in 1988.
But Hughes admits he made a mistake in only staying in Spain for a season and says Bale is fortunate to have the support of his family.
"It's such an opportunity," Hughes told BBC's Sport Wales.
"From my own personal experience I made the mistake of thinking 'I'll just go for a couple of years and I'll be back home and continue my career' which is totally the wrong approach.
"When you get the opportunity to go to a club such as Barcelona or Real Madrid you've got to go with the intention that you're going to try and stay there for as long as you can until they actually kick you out of the door.
"I went there when I was 23 but I was a young 23. I wasn't married and I'd only just met my wife-to-be a couple of months before.
"It was difficult - I was out there on my own at times.
"If you have a good support network, which by all accounts Gareth has over there, I'd say stay as long as you can because you'll look back and think what a great experience that was.
"It shapes you as a person, as an individual and that shouldn't be underestimated what effect that will have on you in later years as well."
Sport Wales is on BBC Two Wales on Fridays and is available on BBC iPlayer for seven days after transmission.