Fifa & Uefa warn Greek Football Federation it faces ban
Last updated on .From the section European Football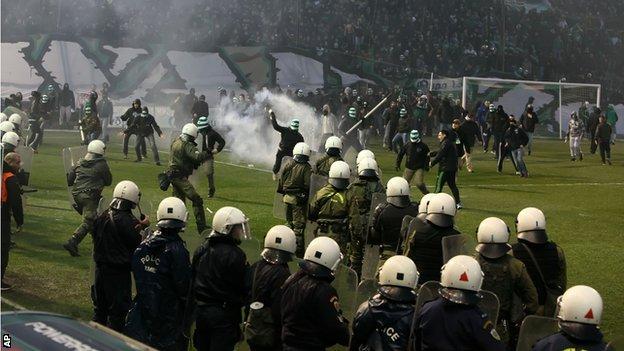 Uefa and Fifa have warned the Greek Football Federation that it faces suspension from international matches because of government interference.
The Greek Super League has already been suspended three times this season due to serious outbreaks of violence.
Any new legislation would breach Fifa and Uefa rules on third-party influence on a national football federation.
On Wednesday, the European and world football governing bodies sent a letter to the Greek government reiterating their stance.
Uefa general secretary Gianni Infantino hopes the threat "will make them reconsider their actions, so we can still work together to resolve the issues affecting Greek football".
However, Greece's deputy sports minister Stavros Kontonis rejected the ultimatum in a television interview on Wednesday evening.
"We are not going to change the philosophy of the sports bill. The supervision exercised in Greek football by Fifa and Uefa has failed," Kontonis said.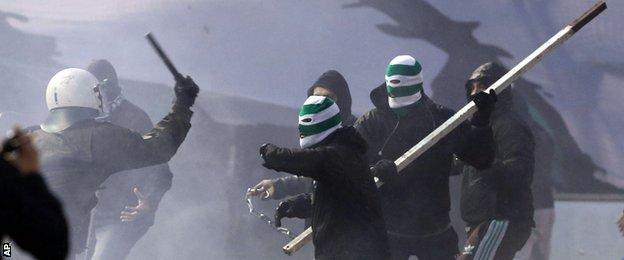 Kontonis stressed that he will meet with Fifa and Uefa officials at the end of this month in order to find a solution but made it clear that he "does not accept ultimatums".
Under the planned legislation, the Greek government would have the right to impose fines ranging from £7,000 (10,000 euros) to £17m (25m euros) for violent incidents, to order the postponement or cancellation of sporting events and even to prohibit teams from playing in European competition.
Fifa and Uefa warned that "should the bill be adopted as proposed, we will have no option but to refer the case to the relevant Fifa and Uefa bodies for immediate sanctions, including the suspension of the Greek football federation".
Any suspension would bar Greek national teams and club sides from taking part in Fifa and Uefa competitions.
The Greek federation was also briefly suspended on the same grounds in 2006 while reigning European champions.