Arsenal v Chelsea: Why Wenger can end Mourinho hoodoo
Last updated on .From the section Football

In his regular BBC Sport column, Robbie Savage looks at Arsenal's top-of-the-table clash with Chelsea on Sunday and explains why Arsene Wenger might finally get the better of Jose Mourinho, at the 13th attempt.
Arsenal manager Arsene Wenger has got an abysmal record against Jose Mourinho but there are a few reasons why I think he will finally end his hoodoo against the Chelsea boss this weekend.
Form, confidence, style of play and - crucially - their new defensive discipline can all help Arsenal beat the Blues at Emirates Stadium.
The Gunners will still have to work exceptionally hard to make it happen, though, because defeat in a big game is just not something Mourinho experiences very often.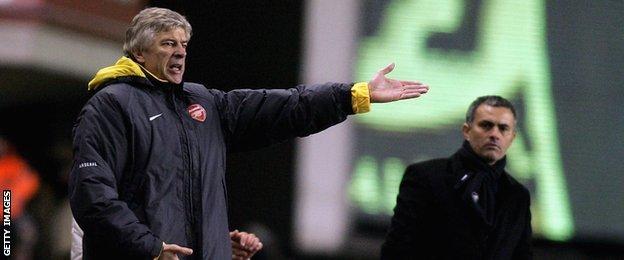 Since the start of his first spell as Chelsea boss in 2004, Mourinho has played 39 league games against his main rivals in England - the Gunners, Liverpool, Manchester United and Manchester City - and lost only three of them.
Mourinho's results against the Gunners have been particularly impressive. In 12 meetings in all competitions over the past decade, Wenger has never beaten him.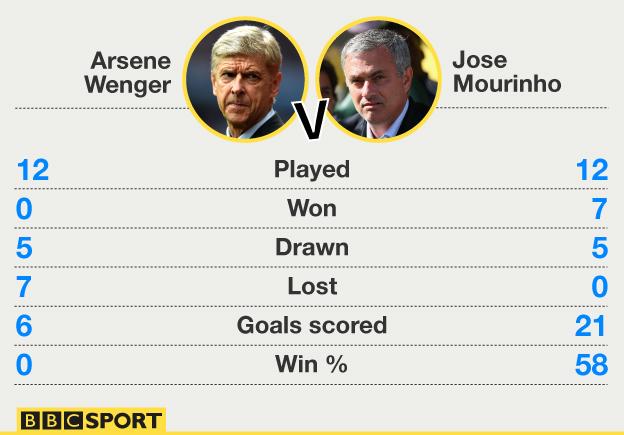 If you think about the type of football both teams have produced in the last few years under Wenger and Mourinho, you can understand why.
In the past, the way Arsenal have played has suited Mourinho and Chelsea down to the ground because the Gunners have been cavalier going forward and left themselves wide open at the back.
Do that against Mourinho, who likes to get men behind the ball and be ready to pounce on the break, and he will eat you alive.
Mourinho's approach won't change this weekend - the question is how well Arsenal can deal with it this time.
'Arsenal will be doing most of the attacking'
Sunday's game will probably be very similar to the way things went in Chelsea's win over Manchester United last weekend, at least in terms of the pattern of play.
Like United, Arsenal will probably see more of the ball and be the team doing most of the attacking. Chelsea will be defending deep and in numbers.
United's problem was that they still failed to really break Chelsea down and ended up having a lot of long shots.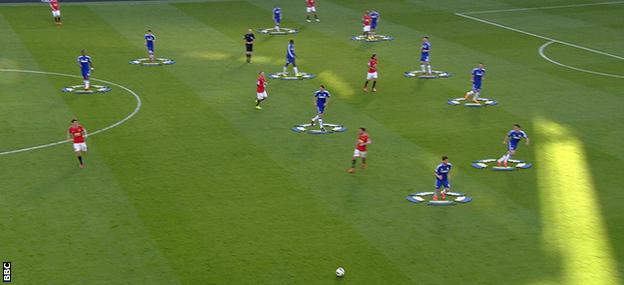 But Arsenal can look to do things differently with their possession because of the quality and type of forward players they have got.
When they find some space between Chelsea's midfield and defence they will keep on passing and probing until they get behind them, rather than shooting from distance.
You often hear Arsenal get accused of trying to pass the ball into the net. Well, that patient approach will work perfectly against Chelsea.
If they play that extra pass, as many times as it takes, I think they will end up wearing Chelsea out.
'The Gunners are the form team in Europe'
Out-passing Chelsea did not help Arsenal when they played them at home last season - there was no way through.
I was at Emirates Stadium that night and Mourinho crowded the midfield and succeeded in killing the game. No doubt he will try to do the same again.
But Arsenal have got far more ammunition when they come forward these days and their recent results mean they should not lack self-belief, even against a defence as formidable as Chelsea's.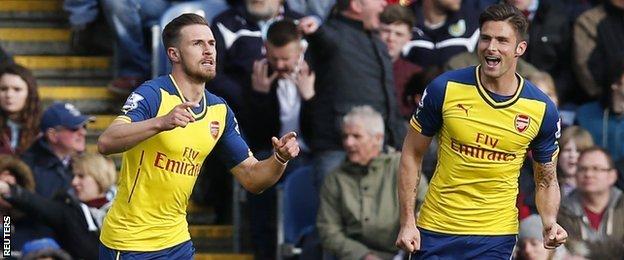 The Gunners have reached the FA Cup final and they come into this game as the form side in Europe, with the most points per game in 2015 of any team in the top divisions in England, Spain, Germany, France or Italy.
They have also worked out how to beat their main rivals again, something they struggled to do last season, when they suffered heavy defeats at Manchester City, Liverpool and Chelsea.
2013-14 results between Premier League top four

Played

Won

Drawn

Lost

For

Against

Points

Chelsea

6

5

1

0

12

2

16

Man City

6

2

1

3

12

11

7

Liverpool

6

2

0

4

10

11

6

Arsenal

6

1

2

3

7

18

5
In January they went to Etihad Stadium and beat City by taking a more defensive-minded approach and they battered Liverpool at home earlier this month at a time when the Reds were flying, inflicting a defeat that severely damaged their Champions League hopes.
Yes, Arsenal are still bottom of the mini-league between this season's top four as things stand.
But if they win on Sunday, as I think they will, and also beat United on 17 May, that would mean they finish on top. Even if they don't, I would still say the Gunners have made real progress in terms of their outlook this season.
2014-15 results between Premier League top four

Played

Won

Drawn

Lost

For

Against

Points

Chelsea

5

2

3

0

6

3

9

Man Utd

5

2

1

2

7

6

7

Man City

6

1

3

2

7

10

6

Arsenal

4

1

1

2

5

6

4
I expect them to go for it against Chelsea, rather than sit back like they did against City, but Wenger's side will not be gung-ho.
With Francis Coquelin in the team they are much more disciplined in midfield and his influence means they seem far less likely to throw too many men forward and leave themselves vulnerable to counter-attacks.
Against Chelsea they cannot afford to be. The Blues are very well organised at the back but are always waiting for an opportunity to break, as Eden Hazard showed with his winner against United.
'An Arsenal win would be a massive statement'
I know we have been here before, with Arsenal finishing a campaign strongly and their fans saying 'next year is our year', only to be proved wrong.
This time it is different, though.
If I was Wenger I would sign Southampton's Morgan Schneiderlin to play alongside Coquelin and maybe buy another tough centre-half too.
But the rest of the Gunners' squad is good enough to challenge for the title and now they have the mentality to match too.
So, if Arsenal do win on Sunday, it will be a big deal for Wenger and not just because of his long-standing personal rivalry with Mourinho.
It will not affect the outcome of this season's title race - Chelsea will end up winning the league no matter what happens in this game.
But it would be a massive statement about the Gunners' future title credentials.
A win, no matter how they get it against the champions elect, would show they will really mean business next year.
Robbie Savage was speaking to BBC Sport's Chris Bevan