Cameroon must change mentality - Benjamin Moukandjo
By Oluwashina Okeleji
BBC Sport
Last updated on .From the section Football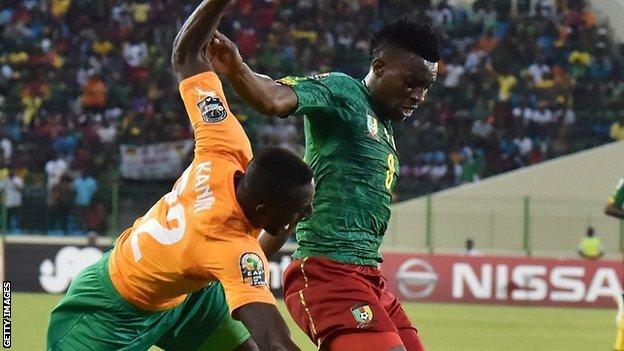 The attitude of the Cameroon team needs to improve if they are to be successful again, says forward Benjamin Moukandjo.
The Indomitable Lions disappointed in this year's Africa Cup of Nations - having missed the two previous editions - despite qualifying unbeaten.
Moukandjo told BBC Sport: "We went to the last Nations Cup with so much confidence but we failed everyone.
"The qualifiers for the next tournament start soon but we must now change our attitude and mentality."
Cameroon were a dominant force in the century's first decade, winning back-to-back titles in 2000 and 2002 and finishing runners-up in 2008.
But they have fallen away badly in the last five years, their low point coming in last summer's World Cup in Brazil where they lost all three matches, had Alex Song sent off and saw team-mates Benoit Assou-Ekotto and Benjamin Moukandjo clash on the field.
It seemed they had turned a corner when they hit good form to qualify for the 2015 Nations Cup in Equatorial Guinea without a losing a game and topping a group that contained Ivory Coast.
But while the Elephants went on to win the tournament, Cameroon were eliminated at the first hurdle.
Tamed Lions
Cameroon have qualified for only one of the last three Africa Cup of Nations finals and last won the title 13 years ago
"A draw in the opening game was okay but our tournament practically ended when we made silly mistakes against Guinea in the second game," said Moukandjo.
"Imagine beating Ivory Coast in qualifying and losing to them in the last game, it was just a complete disappointment for us."
The Indomitable Lions have a rich history; they have appeared at seven World Cup finals - an African record - and they were the first African side to reach the quarter-finals, in Italy 1990.
But they have not gone beyond the group stage in their past four appearances at the tournament and have won only one match.
Moukandjo, who plays his club football in France for Reims, believes only the players can halt the team's downward spiral.
"It's not enough to claim that we have four African titles and several players in top European leagues," he said.
"We've not won anything as players so we must change our mentality, teams can never be afraid of Cameroon as former champions because football has changed in Africa and everywhere.
"We can't keep looking back and using previous failures as an excuse, the change we need is up to the players and the coaches."
Moukandjo believes Cameroon will have to survive Africa's "trickiest group" if they are to reach the 2017 Africa Cup of Nations in Gabon.
The Central Africans will need to top Group M ahead of South Africa, The Gambia and Mauritania in the qualifiers if they are to be sure of a place at the finals.
"We know South Africa but have absolutely no idea what Gambia and Mauritania are all about," he added.
"Many will say we are favourites in this group but we cannot deceive ourselves that we are unbeatable.
"What the team needs is same strong spirit as the last qualifiers and similar attitude hopefully at the tournament in Gabon."