Scottish Premiership play-off cash change rejected
Last updated on .From the section Football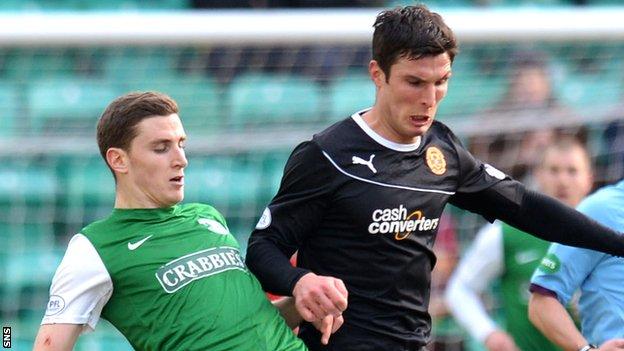 A proposal by Hibernian, Hearts and Motherwell to change the distribution of gate receipts from play-off matches has been defeated.
The three sides wanted to halve the revenue going to Scottish Professional Football League clubs not involved in the top-flight play-offs from 50%.
But the plan was rejected at a meeting of the 42 clubs at Hampden on Thursday.
Hibs chief executive Leeann Dempster would not reveal how much backing the proposal had received.
She said: "We had a reasoned debate, members have heard our perspective and decided not to agree, which we are OK with because it's a democratic process."
Hearts will not be involved in the play-offs as they have secured automatic promotion by winning the Championship, but fellow second-tier side Hibs will take part and Premiership outfit Motherwell currently occupy the top-flight play-off place.
The three clubs had claimed other clubs would not lose out by a change in distribution, because the Scottish FA was funding the parachute payment for clubs relegated from the Premiership and because of television coverage,
"I really don't want to get hung up on this now," Dempster added. "The truth is that we took a position, we felt it was reasoned, other members didn't support it.
"We don't feel bitter or upset. That's just the beauty of working in an organisation such as this."