Ronald Koeman: Southampton boss warns players to stay focused
Last updated on .From the section Football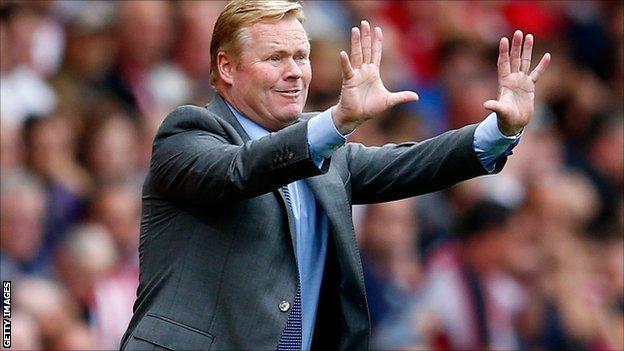 Southampton boss Ronald Koeman has held a team meeting to warn his players not to let transfer speculation distract them in the final month of the season.
Koeman spoke to his squad on Thursday following a national newspaper story linking Saints midfielder Victor Wanyama with a summer move to Arsenal.
Wanyama dismissed the story and Koeman himself said it had no foundation.
"From Victor's part it is all rubbish and he never said that. I believe that," Koeman told BBC Radio Solent.
"We spoke together with the players. It's always at the end of the season there are a lot of rumours about contracts and the future of the players.
"We need our focus to be on the final five games. That is more important and that was the message to the players this morning.
"We want to finish the season how we started, playing good football with a lot of points."
Last year Southampton's summer was disrupted by the departures of Adam Lallana, Luke Shaw, Dejan Lovren, Calum Chambers and Rickie Lambert.
Kenyan midfielder Wanyama, who joined Saints from Celtic in July 2013, said he had not been in contact with Arsenal boss Arsene Wenger after reports the Frenchman was interested in the 23-year-old.
Wanyama posted on Twitter on Thursday: "To cut the story short have never spoken to Wenger." The tweet was later deleted.
He then added: "Sorry - was caught off guard this morning about a story that I hadn't read. To put it straight: We all respect Arsenal but right now I'm only focused on helping Saints to have a strong finish to the season.
"The newspaper article does not say that I have spoken to Wenger or anyone else from Arsenal - and that's the truth. We are doing so well and what other managers think of me as a player is totally out of my control."