Bristol Academy lacked spirit under Edmondson - chairman
Last updated on .From the section Women's Football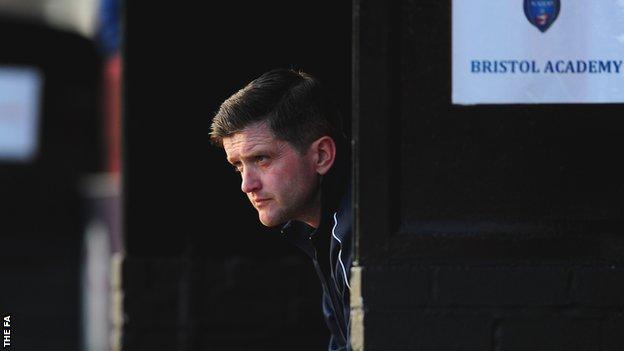 A lack of team spirit was behind Dave Edmondson's sacking as Bristol Academy boss, chairman Simon Arnold has said.
Edmondson told BBC Sport he was surprised to be sacked after just three Women's Super League One games, but would not comment further.
They have lost all six matches in 2015, conceding 22 goals, scoring two, and been eliminated from two competitions.
"We feel team spirit is gone and that is a fundamental part of the club," Arnold told BBC Radio Bristol.
"We parted company with a great technical manager but someone whose directions weren't gelling with the whole club - the players weren't playing with the spirit we have seen in the past.
"I think when you haven't got the funding to bring in top players from around Europe, like other clubs are doing, what you need to do is get that team spirit and that never-say-die attitude, which we seem to have lost somehow."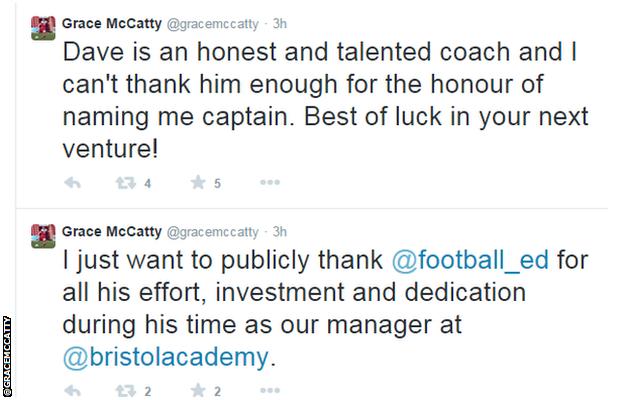 Edmondson managed in both New Zealand and Australia before moving back to England to take over from Mark Sampson, following his appointment as England Women's head coach December 2013.
Domestically, the Vixens struggled last season and finished second from bottom.
However, they thrived in Europe and Edmondson's last win in charge was a 1-0 victory over Barcelona in the last-16 of the Champions League last November in front of a club-record crowd of 2,457 at Ashton Gate.
In between the win over the Spanish giants and a 12-0 aggregate loss to Frankfurt in the quarter-finals of the competition more than four months later, the club lost several key players, including former club captain Corinne Yorston and Spain internationals Laura del Rio and Natalia Pablos Sanchon.
A difficult start to the new season, in which they were knocked out of the FA Cup by second-tier side Everton, sees Bristol sit bottom of the table, having scored just one goal from open play in all competitions.
Arnold admits Edmondson's successor will not be given the financial resources to compete with clubs such as Manchester City, Arsenal and Chelsea, all of which have links to their Premier League counterparts.
"It's not the easiest job in the world," Arnold continued.
"It is a strange club, a fantastic club and we need someone who can look from Under-11s right the way through and really bring it all back together the way it was before."
Arnold said there has already been interest in the position and hoped an appointment could be made before the mid-season break next month.
Assistant first-team coach Lauren Smith will take over as interim coach, with goalkeeping coach and former Trinidad national team manager John Granville acting as her assistant.