AFC Bournemouth: Adam Smith says watching results 'too stressful'
Last updated on .From the section Football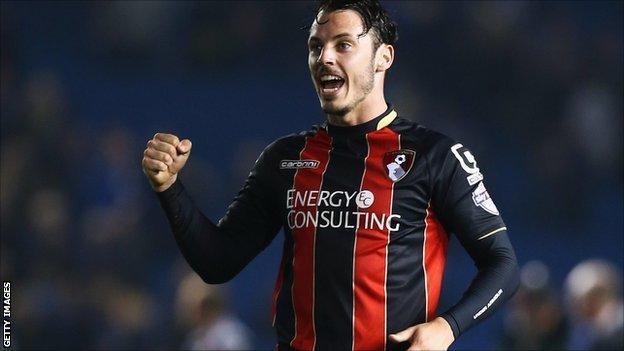 Bournemouth defender Adam Smith says the squad will avoid their Championship promotion rivals' scores on Saturday as the season draws to a thrilling climax.
The Cherries, who next play Bolton on Monday, need two wins from their final two games to seal promotion.
Results at the weekend could mean they need less than six points to go up.
"I won't be watching the TV or football (results) on Saturday," Smith told BBC Radio Solent. "There is no point putting yourself through that.
Four-way fight
Only three points separate Watford, Bournemouth, Middlesbrough and Norwich - the top four teams who are chasing automatic promotion.
"We've just got to focus on us and win those two games. It's too stressful, I'll get out and do something with the lads and won't look at the scores."
The Cherries are second in the table, a point behind leaders Watford, and with a significantly better goal difference than Middlesbrough below them who also have 84 points.
And manager Eddie Howe echoed Smith's approach to Saturday's fixtures in which all their rivals play, saying he will not be looking out for results.
"I won't be doing that," Howe told BBC Radio Solent. "I don't expect my players to be doing that.
Two games to go - Championship promotion race

Watford
B'mouth
M'brough
Norwich
Derby
Ipswich

Brighton (a)

Bolton (h)

Fulham (a)

Rotherham (a)

Millwall (a)

Nottm Forest (h)

Sheff Wed (h)

Charlton (a)

Brighton (h)

Fulham (h)

Reading (h)

Blackburn (a)
"Our perspective is very clear, we are focusing on Bolton I don't think that changes at all regarding other results. Whether it's an advantage or a disadvantage (to play on Monday) who knows?
"I don't think it really matters. I'll be watching a game, that might well be Charlton (who Cherries play on the final day of the season)."
While Howe's focus is purely on Monday's fixture, one man who could miss that game is owner Maxim Demin - who is based in Switzerland.
Demin has invested heavily in the Dorset club and Howe said the Russian businessman had been full of support for the team.
"I don't know at this moment in time (if he will be at the game)," Howe added.
"He's keen for us to succeed, He's been great and has not put any undue pressure on us.
"It's been very enjoyable for him to watch the team this season and he has been full of praise at how they've done and represented the football club.
"It's all positive and there is a willingness from him for is to achieve our goal."
Hornets on the brink
A top-two finish will be secured if the Championship leaders win at Brighton on Saturday, Middlesbrough lose at Fulham and Norwich fail to beat Rotherham.
The Cherries dropped two points in their 2-2 draw against Sheffield Wednesday after Smith conceded a injury-time penalty.
However the right-back said he was over the mistake while Howe said the squad had not been affected by the result.
"When it happened I could not believe it," 23-year-old Smith said. "I was upset to do that to the team and let myself down. I'm just looking forward to Monday to put it right."
Howe added: "In disappointment we still had to reflect it was in our hands. Nothing had changed from that perspective, in fact there was a game less so in some senses we are in a better position.
"My focus has been to the players that we focus on Bolton. We need to win the first game and forget the second game and at this moment in time it is about this one performance and this one game and the rest will take care of itself."