Miguel Layun: Watford should not feel pressure in promotion race
Last updated on .From the section Football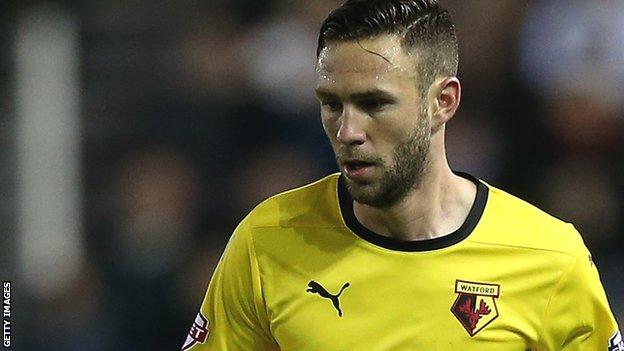 Watford are not under pressure despite being on the verge of promotion to the Premier League, says Mexican full-back Miguel Layun.
A top-two finish will be secured if the Championship leaders win at Brighton on Saturday, Middlesbrough lose at Fulham and Norwich fail to beat Rotherham.
Layun, 26, told BBC Three Counties Radio: "You are doing the thing you love most - you are playing football.
"In life there is lots to be pressured [about]. This is just a big chance."
Four-way fight
Only three points separate Watford, Bournemouth, Middlesbrough and Norwich - the top four teams who are chasing automatic promotion.
Layun added: "We have to take this chance for us, for the supporters and for everyone who believes in this team.
"I've been in some other moments in my life that I think are more pressure moments than this one. We are doing great things here. I don't believe that's pressure.
"You feel that you have a big responsibility, but I think it's different to feeling this responsibility with pressure. Now you're at the top you have to show why you're at the top. I just feel we have a big responsibility.
"I believe in my team-mates. I believe they can keep going, they can keep doing the things they have been doing and I think it's just a big moment.
"There are chances that come once in life and you have to take it, because if you don't take it someone else will take it. We have to believe we have the skills to take this chance and go up."
Regardless of their rivals' results, Watford - who are at home to Sheffield Wednesday on the final day of the season - will be crowned champions if they win their last two matches.
"We all want to win the title. We know it's a big chance," added Layun, who was signed from Granada in January. "It's different to go up as champions than to go up as second or as the third one in the play-offs.
"We have to fight together and get this goal we have in front of us. We have to achieve this. It's a massive chance. If we all think the same way, we can get it."