Rangers: Stuart McCall prepares plans for next season
Last updated on .From the section Football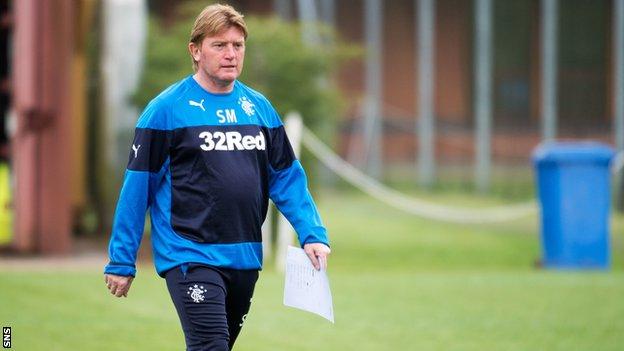 Rangers manager Stuart McCall says he is building a dossier of player targets for the club, despite the uncertainty over his future and that of the club.
McCall does not know if he will be in charge of the Championship side beyond the end of May, by which point he hopes to have won promotion via the playoffs.
He said: "We're not standing still. I've been speaking to a lot of agents and putting things in place.
"We're putting together a portfolio of players and positions."
Rangers sit second in the table, behind Championship winners Hearts, and one point ahead of Hibernian, with Queen of the South looking like the other team who will clinch a place in the Premiership playoffs.
McCall took over from Kenny McDowall in mid-March after he followed Ally McCoist in handing in his notice and being placed on gardening leave. The former Ibrox midfielder hopes to secure the role in the long term and is planning for next season.
He continued: "Even if I'm not here, if I'm getting players put to me that I'm getting told would like to come to Rangers regardless of who the manager is, then we build a portfolio of positions that would be needed next year.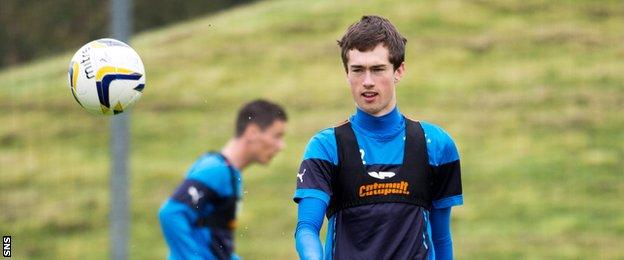 "There are a lot of agents who come on and we build a little dossier of players that we think as a staff would be good for next season regardless of what league we're in.
"Whether or not I'm in charge, I still want the best for the club. I'll put my views to the board who I think should be coming in to the club and who should still be here."
The club's scouting network has suffered badly during the recent years of financial turmoil and the manager acknowledged that it would need to be rebuilt, though on a smaller scale than before.
"There have been discussions behind the scenes with different people," said McCall.
"A scouting network needs to be put in place. Having said that, (while Motherwell manager) I brought Henrik Ojamaa from a clip I saw on YouTube and sold him for £350,000.
"I would always like to go and see a player. We don't need scouts all over the world, where Rangers are at this moment."
Whoever is in charge at Ibrox in the summer is likely to oversee a significant turnover of players as new recruits replace those whose deals have expired. McCall feels that his squad are coping well with the uncertainty over whether contracts will be renewed.
"It's just part and parcel of football these days," he told reporters ahead of his team's league game against Falkirk.
"It would be great to have your future mapped out but more and more, unless you're a hot property, sometimes you go to the end of the season before you find out what you're doing.
"It's a little bit different here because they don't know who the manager is going to be next year and they don't know what division they're going to be playing in, so it's a bit difficult to set budgets.
"But the lads are all fighting for the jersey and the ones who are out of contract are fighting for a contract."