Gareth Bale: Wales not worried over Real Madrid winger's fitness
Last updated on .From the section Football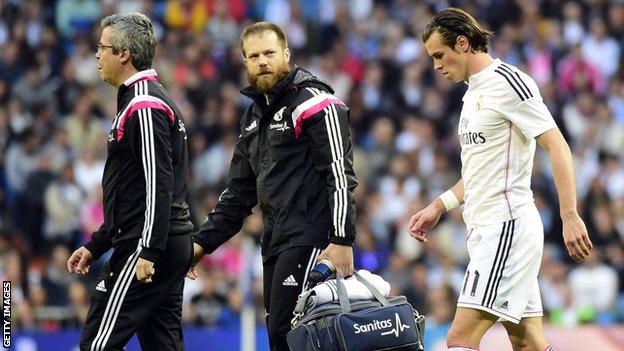 Wales coach Osian Roberts does not have any concerns over Gareth Bale's fitness ahead of the Euro 2016 qualifier against Belgium on 12 June.
Real Madrid's Bale, 25, suffered a calf injury against Malaga in La Liga.
The Welshman missed the 1-0 Champions League win against Atletico Madrid but Roberts has played down fears.
"Our medical team have been in touch with Real Madrid. It's a calf strain and it should clear up within the next 10 days," Roberts said.
"That's good news, as he should be back playing before the end of the season as he has some big games coming up for Real."
Real are two points behind Barcelona in the Spanish title race and will also face Juventus over two legs in the Champions League semi-finals.
Should Carlo Ancelotti's team overcome the Italian side they will face Bayern Munich or Barcelona in the final on 6 June - six days before Wales face Belgium in Cardiff.
"Gareth has worked hard all season to get to a situation where you're playing in big semi-finals, big finals and title-winning games," Roberts said.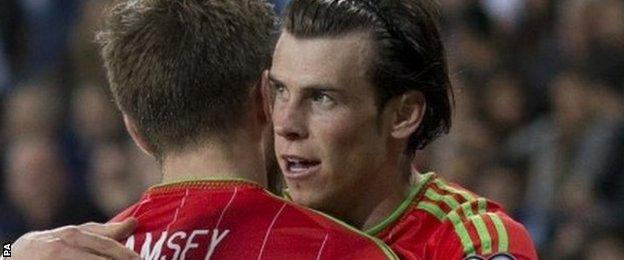 "As a player you work towards that throughout the year.
"Obviously we want Gareth to continue to be successful at club level. And as a by-product that will mean that he'll be fit and fresh for our crucial game against Belgium."
Belgium's 1-0 win in Israel saw them replace Wales as Group B leaders on goal difference and both sides will go into the game at Cardiff City Stadium unbeaten after five qualifiers.
Bale is Wales' top scorer in qualifying with four goals, including two in the 3-0 win over Israel in March.
Roberts said the relationship the Football Association of Wales has with the Real Madrid medical team is important.
"The feedback that we get back is that the reporting mechanism, the dialogue, the communication is as good as any country that they deal with," Roberts said.
"We pride ourselves on that because it's important that trust exists.
"We've seen in recent years the benefit of that because players turn up injured. Players want to be part of what we do and the clubs are supportive of that because they trust us."
"It's a vital part of what we do behind the scenes in between games.
"The medical team play an important part in that. The communication then is nice and clear and everybody know exactly where they stand."