Zambia striker Jacob Mulenga thriving in Chinese football
By Kennedy Gondwe
BBC Sport, Lusaka
Last updated on .From the section Football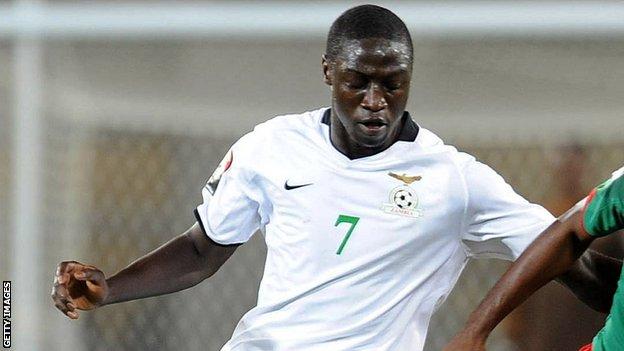 Zambia striker Jacob Mulenga says he is thriving at his new club Shijiazhuang Yongchan FC and has urged other African footballers to consider a move to China if an opportunity arises.
But 31 year old Mulenga - who has also played across Europe - says his journey to China has come with much hard work and dedication.
Back in 2003 - when new Zambia coach Kalusha Bwalya first called up Jacob Mulenga to the national team - little was known about the tall forward.
Mulenga's inclusion in the Zambia squad surprised many. Bwalya had just acquired his coaching badges and was in his first managerial job. But the new Chipolopolo coach was willing to take a gamble on the striker who then played for local side Afrisports.
Twelve years later, it is in China where Mulenga now plays for super division side Shijiazhuang Yongchan FC that has had Zambians talking again. And Mulenga says it has been the perfect move for him.
"Well, I have experienced Europe and know what it's all about. Maybe not all leagues in Europe but I understand the demands and requirements of Europe, plus the European culture," Mulenga told BBC Sport.
"So I wanted a different challenge and China, USA or UAE were the options. But in the end china was what was chosen.
"You need to understand China has a very different culture. So mentally you need to adjust and accept a lot of things. But in all, it's a culture I am learning a lot about."
Hailing from an affluent family, Mulenga was generally seen as a youngster who was lost in his many talents - from playing basketball and riding motor-bikes to being an athlete and wanting to become a professional footballer.
He focused on his football career which took him to clubs across France, Turkey and Holland.
With three Africa Cup of Nations outings and more than 50 caps for Zambia, Mulenga argues that Chinese football is highly competitive - despite what some people might think.
"I see people are very talented and the level is way higher than people think," he said.
"Over the years, they have invested a lot in football from the youths to the super league with coaches from all over adding their knowledge to the league which has really taken Chinese football to new heights.
"Plus, being a country with unlimited funds towards football, they will become a very big market soon. Already, I can say from what I have gathered, clubs are a lot bigger than European teams financially."
Mulenga dismisses the notion that China is a football destination for players looking for retirement packages, and says people can only comment if they have experienced Chinese football.
"It's not very wise to talk about a place you have never really worked in or compare things you have never really experienced," Mulenga cautions.
"For young players, I would say if you have an opportunity to move to China or any league that is more advanced than the league you are in, then you have to take it .
"Do not be fooled by thinking you are good enough to play anywhere; football is step by step. If you miss too many steps, your blessing will begin to feel like a curse."
Mulenga says he is still learning, and that different players develop at different stages. He says investment in youth football is crucial.
"We all wish for young Zambians in top leagues but the reality is our foundations in football are not so strong hence the process and learning stage of football is acquired at a much later stage compared to other players in more advanced leagues.
"Zambia has an abundance of talent but it's rough diamonds. Investment in the youth from a very young age is vital."
Mulenga was not part of the Zambia team that won the 2012 Nations Cup because of injury.
Though he returned for the following tournament in 2013 in South Africa, Zambia were eliminated in first round.
Despite being left out of the 2015 Africa Cup squad in January, he is adamant his days in the Chipolopolo colours are not yet over.
"At times, understanding the selection of players has had me a bit baffled and left me perplexed to a certain extent," Mulenga says.
"But I have been wise enough to understand every coach has his own idea of football so he wants what he sees to fit in his idea. So you have to respect that.
"Being a professional is a lot about respecting the coaches' decision.
So when it's the right moment it shall be known."