Eden Hazard: Jose Mourinho says player is worth £200m
Last updated on .From the section Chelsea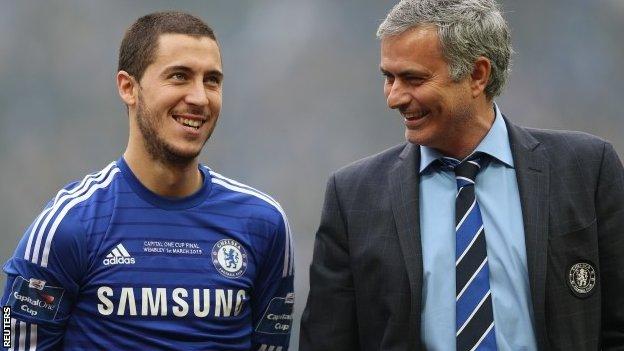 If Real Madrid want to sign Chelsea's Eden Hazard, it will cost them £100m per leg - or they will have to part with one of their own top players, says Chelsea manager Jose Mourinho.
Hazard, 24, has scored 18 goals this season, helping Chelsea move to within six points of the Premier League title.
Asked if £100m would be enough for Chelsea to part with Belgian Hazard, Mourinho said: "Plus one of their [Real's] three best players.
"£100m each leg - he's very young."
Cristiano Ronaldo, Gareth Bale and James Rodriguez are widely regarded as Real's three best players.
Mourinho, whose side visit third-placed Arsenal on Sunday (16:00 BST), does not think any deal will be done without his approval.
Former Real manager Mourinho added: "If they want him, I think I would be the first one to know, because my relationship with the president [Florentino Perez] and with the CEO [Jose Angel Sanchez] doesn't give space for something to happen behind me.
"I trust them completely. If they want him they get on the telephone and they call me to tell me they want him."
Hazard is odds-on favourite to be named PFA Player of the Year on Sunday, but Mourinho says the playmaker has retained his modesty.
"He knows that he's a special player for us and that we need him in many occasions to be decisive for us, but he's such a normal boy that he doesn't belong to that glamour," the Portuguese said.
"He wants to be a special player and a normal person. He's a fantastic boy, a golden boy.
"He doesn't cheat. He doesn't dive. Nothing. So I think, even for opponents, he's a fantastic kid."