John Carver: Newcastle United boss wants 'protection from abuse'
Last updated on .From the section Football
Newcastle boss John Carver has called for more protection from the club after saying he was "abused" by fans during Saturday's 3-2 defeat by Swansea.
A seventh straight loss left United five points above the Premier League relegation zone with four games to go.
Carver was confronted by angry home fans during the club's lowest attended game of the season.
"I am not going to stand out there and be abused during the game. The club has to do something about it," he said.
"I knew it wouldn't be easy. Sometimes it is quite difficult to stand in that technical area and be abused the way I was abused without any protection from the sidelines."
Supporters have been vocal in their criticism of Carver, who replaced Alan Pardew in December, and some fans held up signs calling for owner Mike Ashley to stand down during the Swansea defeat.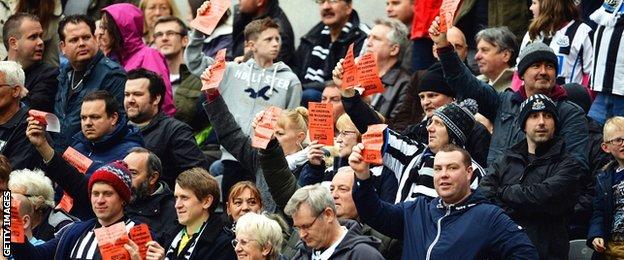 "They expect me to put the ball in the net, stop the headers going in, stop the opposition from scoring," said the 50-year-old.
"I can't affect that. I can't get on the end of the corner and head the ball clear which would have kept us one up at half-time. I can't do that."
Speaking earlier on Saturday, Carver had said: "I'll take it on the chin. I'll explain to people why I do things, I don't have a problem with that."
Hartson has hope for Newcastle
Former Wales striker John Hartson on Final Score: "Newcastle are already on 35 points. You wonder whether the bottom three will reach 35 points. There are only four or five games to go - if there were more games I would worry about Newcastle. But they will just about be OK."
Supporter unrest continues
Prior to the match, a small group of supporters were photographed protesting outside one of the Ashley-owned Sports Direct stores in Newcastle.
And during the game, fans were seen waving red flyers and 'Ashley Out' signs in the 34th minute of the match to signify the amount - in millions of pounds - the club had in its bank account at the end of the last financial year.
They claim Ashley has shown a lack of ambition in attempting to improve the club's status and want to see that money spent on players.
Last Sunday's 3-1 home defeat by Tottenham was watched by 47,427 fans, with almost five thousand seats left empty after a supporter boycott.
But Match of the Day commentator John Roder said there appeared to be more Newcastle supporters watching against Swansea.
The new season low of 46,884 was likely to be caused by fewer away fans attending the game than the previous weekend. The capacity at St James' Park is 52,338.
We have missed De Jong - Carver
Despite the unrest at a club that finished 10th in the Premier League last season, Carver is determined to arrest his team's slump in form.
And he pointed to a first Newcastle goal from Dutch striker Siem de Jong, who returned from a punctured lung and other injuries which have kept him sidelined since last August, as a sign his team could work their way out of trouble.
Newcastle travel to Leicester on Saturday before facing West Brom, QPR and West Ham in their final three games.
"De Jong's goal showed why he is a top player," Carver told BBC Sport. "We have missed that from him. He's been out all season and he's a big player for us.
"We knew we were in a little bit of a fight and we certainly are now after results today. We have to take care of our own business. I said before the game that talk is cheap, it's time for action. We saw some today but we need more."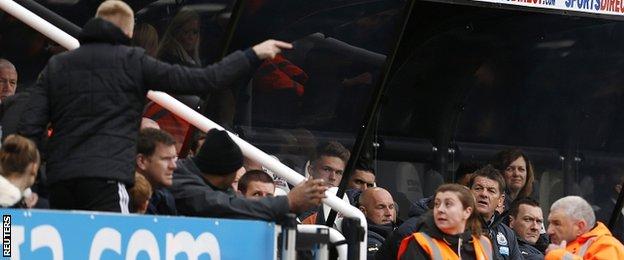 Newcastle in a mess - Shearer
Former Newcastle captain and manager Alan Shearer feels some members of the squad are letting down Carver.
Speaking on Match of the Day on BBC One on Saturday, Shearer said: "I feel a bit sorry for John Carver, because he's from the area, he loves the football club; it's just a shame some of his players don't love the football club as much as he does. They're in a mess. They're in trouble.
"I think 35 points might be enough to stay up. But I'm looking at Newcastle, and I don't think they're safe yet. Their goal difference is not great either.
"Newcastle will need another point, and then I think they'll be all right, but I don't know where that's going to come from."