North Ferriby United: FA Trophy winners face uncertain future
By Jamie Strickland
BBC Sport
Last updated on .From the section North Ferriby United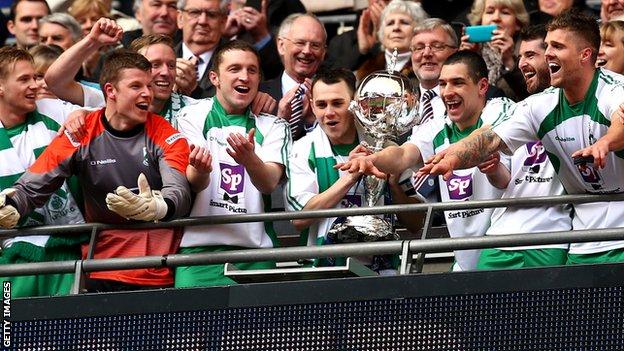 North Ferriby United defender Nathan Peat claims the FA Trophy winners are facing voluntary relegation from the Conference North.
Peat, one of several players to post messages on the subject on social media on Saturday, said the club could be demoted "one, maybe two leagues".
A club statement released later on Saturday did not address Peat's claim.
North Ferriby are owned by Eman and Steve Forster, the daughter and son-in-law of Hull City owner Assem Allam.
The pair have been in charge since late 2013 but announced the club was for sale on 16 April.
The news of their intention to sell came just over a fortnight after the small East Yorkshire club - who have an average attendance of around 365 - beat Wrexham on penalties to win the FA Trophy in a thrilling encounter at Wembley.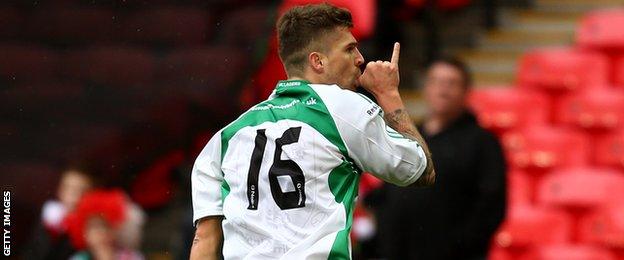 Among a series of social media postings, former Hull and York City player Peat alleged the owners had pulled "every penny" from the club.
In response, the club said the owners would "continue with the club until they can transfer to new owners", adding: "Contrary to comments already made there is no money being pulled out of the club, in fact the opposite is the case, more money has to be put in by the Forsters to ensure the club's continued survival."
The statement said the club's "commerciality and fan base have not matched" recent successes on the pitch, and claimed it was "totally reliant on the continued injection of monies from Steve and Eman Forster".
Striker Ryan Kendall, who scored twice in the victory over Wrexham, had earlier said on Twitter that the players were now "free to find new clubs".
"A sad day for North Ferriby today. The best season of our lives just turned into the worst. Will miss everyone at the club," Kendall said.
He added: "Unfortunately for us as a club businessmen don't see the consequences of their actions, that's the way they work. #ruthless"
Villagers midfielder Tom Denton added: "Gutted about the news at Ferriby today really enjoyed my football this season."
Peat also claimed North Ferriby's players have been invited by the Allam family to parade the FA Trophy at the KC Stadium during Hull's game with Liverpool this Tuesday.
Despite his obvious unhappiness, Peat said: "Just to let everyone know!! Every player will be parading the trophy at half time on Tuesday! To show the biggest achievement in Hull."
North Ferriby, who are managed by Billy Heath, narrowly missed out on promotion to the Conference National last year.
They finished 10th in the Conference North this term, their season ending with Saturday's goalless draw at home to Bradford Park Avenue.