Wrexham: Carl Darlington hopes to stay at Wrexham with new boss
Last updated on .From the section Football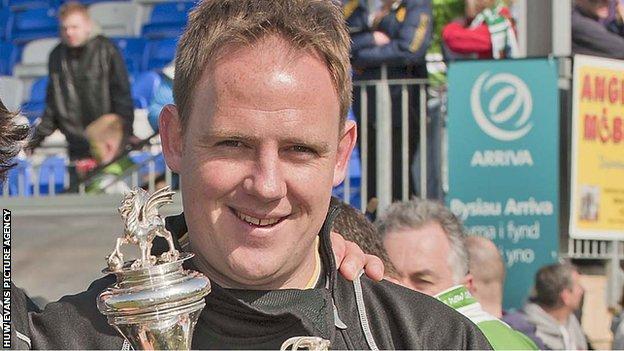 Wrexham caretaker boss Carl Darlington hopes to stay at the club after a new manager is appointed.
Darlington oversaw four wins and three draws in his eight games as part of a temporary management set-up after Kevin Wilkin was sacked.
Wrexham's season ended with a 2-1 win at Telford that left them 11th-place in the Conference.
"I just want the opportunity to stay at the club, I'm sure we'll go to higher things," he said.
Darlington has already ruled out becoming permanent manager.
Wrexham have made an approach for Gateshead's Gary Mills.
There has also been an approach by a League club, which the BBC understands to be Tranmere, to speak to Mills.
Darlington says that if Wrexham had been as consistent over the whole of the season as they were during their last eight games, they would have finished third in the Conference Premier.
"I can only praise the players because the turmoil that's gone on in the last eight games, they've been outstanding.
"If you look at that in terms of collating it over a full season, that's just under a fifth of a season so you add all that up and it comes to 83 points.
"That would have got us third in the league so to turn that around in eight games… that shows that group of players can actually do something."
However, captain Dean Keates is unsure if he will remain at The Racecourse.
Keates says the signs of what was to come were evident during pre-season in the summer of 2014.
"There was talent from the off, but if I'm honest, things were not being done right from day one [from] July up until when Darlo came in."
Later on Twitter, Keates said: "If today was my last game for this great club, it's been an honour and privilege to pull the Wrexham top on and be captain for last five years."